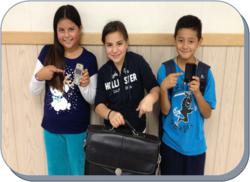 All in all, Planet Green Recycle is a fabulous and unique recycle program to begin with, and what makes it so powerful and effective is that everybody wins; literally. - Leah Prunty, Executive Director of Leah Prunty Dance Arts
Chatsworth, CA (PRWEB) April 02, 2013
As Los Angeles public K-12 schools are experiencing budget cuts, Leah Prunty Dance Arts Non-Profit Organization is providing a comprehensive learning experience for kids and teens. The program is infused with creative aspects of individual expression, dance and education about recycling and preserving the environment.
To support their program, LPDA is working with Planet Green to recycle inkjets, cell phones and small electronics to raise funds. Within the interview featured on the Planet Green's Official Blog, Prunty states, "All in all, Planet Green Recycle is a fabulous and unique recycle program to begin with, and what makes it so powerful and effective is that everybody wins; literally."
LPDA builds partnerships with schools and communities to foster the creative talents of the youth, teach healthy eating habits and about the importance of preserving the environment. The organization, works to address the issue of reversing drop-out rates among teens, reducing adolescent obesity and adding jobs in LA County.
By working with Planet Green, the organization is able to utilize the recycle fundraising program as a way to teach the importance of saving the environment by becoming an integral part of the collection process. LPDA developed an interactive contest to collect items accepted by Planet Green where they have a chance to win prizes from local businesses. Educating students about the harmful effects it can have on our environment when not disposed of properly, gives meaning to how each person can make a difference in their community.
###
About: Planet Green is the global leader of quality re-manufactured inkjet cartridges and e-waste recycling fundraising programs. Since its inception in 2,000, quality has been and continues to be the focal point of Planet Green's operation. The e-waste recycle fundraising program has helped thousands of charitable organizations raise over $40,000,000 and has kept thousands of tons of e-waste out of landfills.