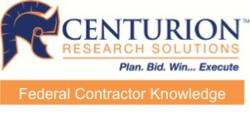 "Too few federal contractors have institutionalized an effective capture planning process."
- Gary Loyd, CEO
Chantilly, Virginia (PRWEB) April 03, 2013
Gary Loyd, CEO of Centurion Research Solutions, announced the release of a new Federal Contractor Knowledge white paper, "How to Build a Winning Capture Plan". This follows on the heels of a very successful capture planning webinar and the latest release of Centurion's Opportunity Assessment NOW™ (OAN) analytic tool.
A federal business capture plan is an indispensible means of gathering and sharing important bid information. Unfortunately, there are few government contractors who have institutionalized the development of a capture plan. An effective capture plan:
• Focuses thinking
• Provides discipline
• Surfaces action items
• Raises win probability
This white paper focuses on the capture strategy and planning activities that should occur, optimally, months before a final Request for Proposal (RFP) is released.
About Centurion Research Solutions
Centurion Research Solutions, founded in 2003, is a business intelligence and analytics company with a simple mission: offer products and services that help federal contractors efficiently win more government business. To achieve this mission, Centurion provides online, subscription-based products, custom research and analysis, and in-depth training. Industry leaders such as Alion, Boeing, Northrop Grumman, SAIC, Lockheed Martin, BAE Systems, InDyne, CACI and Raytheon rely on these products and expertise to help them identify, analyze and win more government contracts.