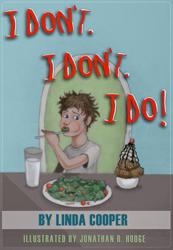 I'm particularly pleased," said author Linda Cooper, "that kids and parents are having fun with this little picture book. And that Hungry Mutt Productions is donating 5% of the proceeds to the national Autism Society.
Baton Rouge, LA (PRWEB) April 10, 2013
What children often have difficulty grasping is that they sometimes have to do what they don't like – before they can do what they do like. This little secret lies at the heart of a newly released children's picture book, I Don't. I Don't. I Do!
Author Linda Cooper, a former Tulane University ESL instructor, uses a simple rhythmic style to portray a day in the life of a young boy, showing the compromises he must make to get his heart's desires.
The colorful illustrations by Jonathan R. Hodge, a graduate of the Columbus College of Art and Design, playfully capture how sharing snacks, taking naps and taking turns are often prerequisites for going out to play, making friends and having fun.
The picture book, which makes for a delightful bedtime story, is now available in the Kindle Store on Amazon. Five percent of its revenues will be donated to the Autism Society, the nation's leading grassroots organization working to improve the lives of all those affected by autism.
The ebook, published by Hungry Mutt Productions, helps children see how their own little dilemmas might be solved. Its back pages contain a template that allows young readers to create their own personal I Don't. I Don't. I Do! scenarios which can then be posted on the book's website, http://www.IDontIDontIDo.com.
Cooper, who also taught high school English, said her children inspired the idea for the book, but she's found the theme resonates with adults. "People tell you they don't like studying or going to work, but they do want that degree or paycheck. I really like how author Dorothy Parker put it some years ago: 'I don't like writing. I like having written.'"
Hodge, a New Orleans native, has also done medical illustrations for Stanford University and was a featured speaker at the 2012 Seventh International Conference on the Arts in Society in Liverpool, in conjunction with the Cultural Olympiad, an extension of the London Olympics. His portfolio also includes commissioned portraits on copper plates, and a large history painting entitled "The Wrath of Katrina," depicting survivors of the 2005 hurricane that hit New Orleans.
For more information, visit http://www.HungryMutt.com or http://www.IDontIDontIDo.com, or contact Elizabeth Winling at (504) 408-0801 Ext: 702. Hungry Mutt Productions is the children's book arm of Not Ink Studios.
For those who don't own a Kindle device, Amazon provides a number of ways to read digital ebooks – all free of charge. There is a "Cloud" based tool for reading Kindle books from a Web browser, several Kindle smart phone apps, and Kindle applications to download to your computer desktop. More details are available at http://IDontIDontIDo.com/about/ereaders.