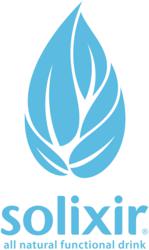 Chicago, IL (PRWEB) April 02, 2013
Solixir, a new all natural functional drink brand, announces the launch of their innovative marketing and advertising campaign titled "The Working Dead," which will hit the streets of Chicago on April 1, 2013. A play off of the popular television series "The Walking Dead" and other recent Zombie trends in the media, including movies like Warm Bodies (February 2013) and World War Z starring Brad Pitt (June 2013), Solixir's shock and awe campaign employs advertising dominations at Chicago's elevated rapid transit system or the "El," working its way around Chicago's historic commercial center the "Loop," to make a big impression in a small area—an area that over a half a million people commute to and from daily.
The campaign will expose Solixir to a new audience who can associate their needs with the four situation specific formulas of the Solixir functional drink system: Awaken, Restore, Relax and Think. The campaign will also layer promotions, social media interaction, contests and the uniformed Solixir "Dept. of Optimal Performance" to take the Chicago Loop building by building, block by block, saving the Working Dead with Solixir one can at a time.
The campaign utilizes an "Activation Plan," mirroring Solixir Founder Scott Lerner's military background as an ex-marine officer. "In the military, there is a precise way to conduct an operation in an urban environment. You go block by block, building by building. You take real estate and then hold it. That is really what we are trying to do, to focus our resources and saturate the Solixir brand in the Chicago Loop," says Lerner.
Lawrence Neisler, partner at Wilburn Thomas, Solixir's ad agency of record, said, "Our activation strategy for Solixir, a small start-up, is for them to look and play like a big established brand. We were able to take them to a place most big brands would never dare go by using a negative, in our case the zombie as a metaphor for the consumers varied need states throughout their work day, with the product strongly positioned as the anecdote. This campaign leverages popular culture and uses theatrical elements to engage new consumers by allowing them to be part of the story."
Tactics of Solixir's "Working Dead" campaign include:

STAGED "OUTBREAKS"—Working Dead zombies will be placed in high traffic areas including popular Chicago "El" stops including Washington/Wabash, State/Lake, Dearborn/Washington and Dearborn/Monroe.
DECONTAMINATION ZONES AND OFFICE SWEEPS —Solixir will utilize guerilla tactics such as designated "Street Teams" to engage consumers inside and outside of offices with "office sweeps." On the street sampling will also be conducted in designated decontamination zones.
TWITTER INVOLVEMENT—Twitter followers can stay updated on where the latest Working Dead zombies can be spotted at with Solixir's handle @solixir.
FACEBOOK CONTEST—Facebook users can submit photos of their zombie like state and tag Solixir. Each week Solixir will post a photo winner, who will win a year's supply of Solixir. After six weeks, one finalist will be chosen and featured as a Working Dead zombie on Solixir's bus shelter advertising across Chicago in June 2013.
The advertising and marketing campaign will be hitting Chicago streets April 1, 2013 at the Madison/Wabash, and Jackson "El" stops with much activity in the coming months. For more information, please visit Solixir's website at http://www.solixir.com.
ABOUT SOLIXIR
Using effective amounts of all natural ingredients and no added sugar, Solixir is a system of functional drinks specifically designed to attend to a mind and body's different needs throughout a typical workday. When active people require a lift in energy, a bit more focus, help winding down or support for the immune system, Solixir's formulas are a refreshing, healthy way to promote optimal daily performance. Solixir includes four formulas: Awaken for gentle energy, Think for mental clarity, Restore for immune support and Relax for relaxation. For more information, please visit http://www.solixir.com.
###
Media Contact:
Paramount Public Relations, Inc.
Jessica Prah, 312-953-3257, jessica(at)paramountpr(dot)com
Elizabeth Lewis, 312-544-4190, elizabeth(at)paramountpr(dot)com