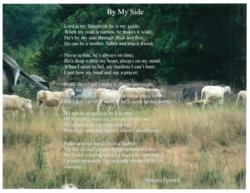 Meridian, MS (PRWEB) April 19, 2013
The poem "By My Side", written by Maurice Howard, portrays one's struggle through the early stages of a crack addiction. The main character turns to God, who continued to bless him in spite of sin. The author, Maurice Howard, felt that it was God's calling to write this book and have it published to inspire, encourage, and strengthen others. The poems express the love of God and his mercy in the journey of life. The pictures are meant to express the beauty in nature to encourage perseverance in times of confusion.
"The authentic pictures of nature, God's creations, accompanied by words of inspiration medicate the soul," said Maurice of his new book.
The feature poem "By My Side" includes images shot in Brooksville, Mississippi of sheep wandering in the pasture as though they are in the search of the shepherd. The book portrays that throughout the journey of life, a sheep may choose to go his own way, but the shepherd never gives up on his sheep. The poems are meant to encourage perseverance and to remind readers that God is their "By My Side." The poem can be found on Maurice Howard's website, along with inspirational picture poetry designed to encourage, inspire, and strengthen in times of confusion. Readers can visit http://www.xlibris.com, Barnes and Noble, or the Amazon Bookstore.
God's Love and Grace began twenty years ago during a crack addiction. In 2008, Maurice Howard started matching poems with photographs of nature to illustrate God's creations as picture poetry evolved. The website, God's Love and Grace, was established in 2009. God's Love and Grace has designed and created Christian art for the home or office not only to inspire, but also to fill that empty space on the wall or tabletop. God's Love and Grace had designed over fifteen pieces of inspiring art to help an individual through life's troubles. For more information, visit us online http://www.godsloveandgrace.com