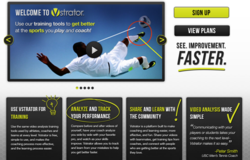 Vstrator is so simple and user friendly. I find that our players retain so much more when they see themselves broken down with video analysis.
Raleigh, NC (PRWEB) April 03, 2013
Vstrator is a new game-changing platform that connects athletes and fans with instructors, leagues, teams, stars and brands. With the easy-to-use mobile app (http://www.vstrator.com/mobileapps) and web version (http://www.Vstrator.com), a coach or athlete can instantly capture, upload and analyze training, anytime, anywhere.
"One of the features that makes the Vstrator app unique is the cloud-based interaction it has with Vstrator.com, allowing teams, clubs, and academies to create their own virtual training communities," said Vstrator's CEO & Founder, Rob Autry. Athletes can upload video clips of their swing, stroke, kick, or hit and their coach (or acting coach, a.k.a Dad) can analyze the "coachable moment" to accelerate the students learning and ultimately accelerate their performance.
Download the free Vstrator app from iTunes, capture up to a 30-second video, upload it into the Vstrator tool to highlight areas of improvement, and provide coaching feedback to improve performance.
The technology allows you to provide and receive visual and audio feedback, track progress with side-by-side comparisons, and share results with coaches, teammates, friends and family. Vstrator's video analysis changes the way athletes and coaches connect and collaborate in order to improve and enhance the learning process.
Stanford University Director of Tennis and former Head Coach of 17 NCAA Championship Teams, Dick Gould, considers Vstrator a great teaching and training tool. "Vstrator is so simple and user friendly," Gould said. "I find that our players retain so much more when they see themselves broken down with video analysis."
About Vstrator
Vstrator is a technology platform committed to leveling the playing field and enhancing coachable moments through capturing, creating, sharing and interacting with video. Vstrator is working with world-class athletes, including tennis great Rafael Nadal and Super Bowl Champion Reggie Bush, to bring similar performance-enhancing technology to the sporting world. For more information on Vstrator, visit: http://www.Vstrator.com