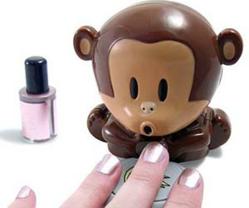 Anyone can give a graduate a gift-card or cash, but it's the unique gifts that leave an impression
Boston, MA (PRWEB) April 10, 2013
The editors at cult-favorite gift website Shot Hot Coffee Out of Nose have once again compiled their annual list of the Top 20 Unique Graduation Gifts. At the top of this year's list is the Grow-A-Tree Kit which allows every graduate to mark his or her place and time by planting a tree. The kit contains a sapling, soil and nutrients. The tree will grow to 20 feet over a short 12 year period. Number 2 on the list is the hilarious 'F in Exams' book. This compilation of humorous, ironic and creatively wrong exam answers is taken from decades of real exams at the high school and college level. Also on the list of unique graduation gifts are several off-beat gifts like an NFL toaster that toasts an NFL logo directly onto a slice of bread as well as a beekeepers starter kit which can help any young novice begin a noble and rewarding beekeeping hobby.
"Graduation is a time of new beginnings and an open-minded look to the future. A great graduation gift should reflect this feeling of joy" said Chet Richfield, editor of Shcoon.com. "Anyone can give a graduate a gift-card or cash, but it's the unique gifts that leave an impression" added Richfiled. "Millenials are a unique breed. They love originality and they want to feel special" added Richfield.
Top 20 Unique Graduation Gifts
1. Grow-a-tree Kit- plant an amazing tree to mark a graduate's place and time - $40
2. F in Exams Book - celebrating the creative side of exam failure - $8
3. Kohler Wireless Showerhead Speaker - your tunes in the shower - $199
4. Polaroid Digital/Instant Camera - capture and print instantly - $148
5. State Quarter Ring - custom made from your state's quarter - $45
6. ION Piano Apprentice for iPad - learn piano on your iPad - $59.99
7. NFL Toasters - toasts your favorite team's logo on the bread - $28.95
8. Wireless Keyboard for iPad - $77.70
9. Ice Cream Parlor Milkshake Mixer - just like the pros use - $144
10. Electric Scooter - for the environmentalist - $299
11. NFL Snack Helmet - your favorite team's helmet holding chips and dip - $39.99
12. Backyard Beehive Starter Kit - become a beekeeper - $199
13. Strongest Coffee In The World - 1 lb. bag - $10
14. iPad Guitar Tutor - slip your iPad into a real-size guitar and learn to play - $49
15. Soda/Beer Bottle Lamp Kit - make a lamp from 6 bottles - $36.12
16. Awkward Family Photos Book - funniest book of all time - $10.80
17. Pepper Spray iPhone case - safety and security at your fingertips - $39.95
18. Monkey Nail Dryer - a cute monkey blows on your polished nails - $9
19. Phillips iPhone-controlled Lightbulbs -control color and shade with phone - $289
20. Hand Shaped Chair- great for dorm room or apartment - $181
Acording to Time magazine, Americans will spend over $5 billion on graduation gifts this season. The average gift will be $99.94. Most gift-givers opt to give cash or gift cards while others go the extra mile with unique gifts and special keepsakes for their special graduates.
Shot Hot Coffee Out Of Nose is the Internet's most unique gift destination. With hundreds of the most unique products in the world, there is something for every graduate. At Shot Hot Coffee Out Of Nose you will see gifts that you never knew existed. Visit their website at http://www.shcoon.com