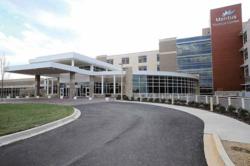 We chose Revenue360 to help proactively reduce errors and increase patient satisfaction.
(PRWEB) April 04, 2013
Beaverton, Oregon: A significant issue that hospitals like Meritus Health face is getting accurate information into their systems at the time of registration. When they do not get correct information while the patient is present, there is substantial follow-up by staff and inconvenience for patients. In an integrated healthcare environment where clinics and hospitals work together, incorrect information causes rework and increases claim denials, resulting in reduced cash flow and patient frustration.
Revenue360's Automated Intelligent Guidance monitors each registration and prevents errors in real-time, while the patient is still present. Using information presented by the patient, in addition to real-time data from insurance carriers, Revenue360 instantly identifies coverage and improves point of service collections.
Meritus will implement the Revenue360 Insurance Code Solution module to reduce denied claims and improve their revenue cycle by proactively and intelligently prompting registrars to capture the correct insurance information and select the right insurance codes with every registration. Using Eligibility Verification, Meritus will confirm the insurance code was properly entered, and verify current insurance coverage status. Together these modules ensure rapid claim payment and allow staff to collect co-pays and deductibles at the point of service.
Automated Intelligent Guidance ensures all users follow Meritus' mandated best practices by leading users through the registration process. It's like having Meritus' most experienced registrar guiding every registration. Meritus Health intends to use the technology to enhance processes in both their clinics and hospital.
"We chose Revenue360 to help proactively reduce errors and increase patient satisfaction. We want our staff to use standardized processes in order to make correct entries on the first try," says George Semko, Executive Director - Revenue Cycle for Meritus Health. "We believe Revenue360 provides the foundation for accurate information to flow through our systems. This is critical for many clinic and hospital processes so we can focus on patient care."
"We appreciate Meritus' choice of Revenue360 and are looking forward to working with them as they customize Revenue360 to their processes," says Edward L (Ted) Tomkins, President of Provider Advantage. "We see Meritus as an innovative and leading regional medical center that is looking for ways to simplify their revenue cycle. We know Revenue360 can help."
Meritus Health, Inc. is the parent corporation of a not-for-profit acute care hospital located in Hagerstown, Maryland, serving the residents of western Maryland, southern Pennsylvania, and the panhandle of West Virginia. It is also the parent of a for-profit corporation that provides ambulatory surgery, laboratory, pharmacy and other health services.
About Revenue360:
Revenue360 helps hospitals get paid faster. By integrating public data into the healthcare provider's workflow, Revenue360 leads staff to higher point-of-service collections and prevents common errors, resulting in cleaner claims.
Providing customized guidance based on the user's business rules, Revenue360 simplifies complex processes including insurance coding, eligibility verification, address and demographic validation, medical necessity, pricing estimation, payment assessment, e-cashiering, and Medicaid and charity assessment.
Revenue360 reduces rework, increases and accelerates total revenue, and improves customer satisfaction through better patient communication.
Learn more at: http://www.Revenue360.net
Provider Advantage and Revenue360 are trademarks of Provider Advantage NW, Inc.
© 2013 Provider Advantage, Inc.
All Rights Reserved