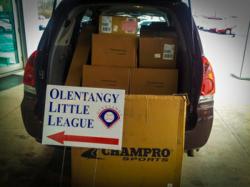 "Youth baseball provides positive and productive life lessons for young people across America and this program is an extension of Chevrolet's commitment to baseball, community and families" said Jeff Mauk of Jack Maxton Chevrolet.
Worthington, Ohio (PRWEB) April 01, 2013
Jack Maxton Chevrolet, a multiple year winner of the Consumers' Choice Award, is partnering with the Olentangy Little League in Worthington, a suburb of Columbus, Ohio. This local initiative is an extension of Chevrolet's national Youth Baseball program to provide new equipment, a monetary contribution, invitations to free instructional clinics, and an opportunity for community members to enter the Chevrolet vehicle sweepstakes.
Since its introduction eight years ago, the Chevrolet Youth Baseball program has helped local teams across the country, affecting more than 3 million young people in communities where Chevrolet's customers live, work and play. In 2012, about 1,600 Chevrolet dealers participated across the country.
The Olentangy Little League was presented with equipment kits including equipment bags, baseball buckets, practice hitting nets, umpire ball bags, batting tees and Chevrolet Youth Baseball T-shirts. The Jack Maxton sponsorship also includes youth clinics featuring current and former MLB/MiLB players and coaches and instructors from Ripken Baseball.
Jack Maxton Chevrolet will also present a check representing a one-time monetary contribution to Olentangy Little League. Sponsored leagues across the country will each receive 2,000 Free Sweepstakes Entry forms to distribute within the community. At the end of the entry period, five winners – one from each region – will win their choice between a 2013 Chevrolet Malibu or Chevrolet Traverse. Each participating market will award a secondary prize.
In addition to its commitment to youth baseball, Chevrolet also is the Official Vehicle of Major League Baseball™.
For more information about Chevrolet Youth Baseball, please visit http://www.youthsportswired.com.
Jack Maxton Chevrolet 1-877-331-1628 http://www.jackmaxton.com
700 E. Dublin-Granville Road
Worthington, Ohio 43085
About The Consumers' Choice Award:
Established in 1987, the Consumers' Choice Award® identifies and promotes businesses that deliver customer service excellence. The Consumers' Choice Award® has retained a leading independent research firm to conduct surveys in U.S. cities; Columbus, Atlanta, Dallas, and Houston. The winners are determined by consumers and not by a panel of judges. The survey covers a broad range of categories of interest to both the public and business communities. Its purpose is to publicly identify those establishments that have been voted by consumers as being their choice for excellence. The Consumers' Choice Award® is a most prestigious tribute to local businesses that serve their communities well. The program is encouraged by all levels of government and by business leaders. Find out more about The Consumers' Choice Award® by visiting http://www.consumerschoiceaward.com/