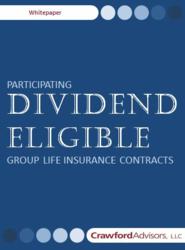 Our costs had been in line with other companies so we didn't give it much thought. Turns out we were leaving money on the table.
Baltimore, MD (PRWEB) April 02, 2013
Attention Business Owners! Are you receiving dividends on group life insurance contracts?
Group life insurance contracts are often overlooked as they are a just a fraction of total health and welfare benefit expense. While medical plan expenses claim the spotlight in most discussions between companies and their brokers, significant savings may exist by evaluating the design of group life insurance contracts.
Life insurance policies are available as non-participating or participating contracts. Participating contracts carry an additional premium, however allow a policyholder to share in a possible surplus (dividend) that may significantly outweigh the upfront charge.
Group policies are typically non-participating, however Crawford Advisors, LLC has developed a complex "look back" analysis to determine if a participating policy would have been monetarily beneficial.
The nationally recognized employee benefits firm reports that over 65% of the evaluations it has performed conclude that a dividend would have been expected and have made a complimentary whitepaper available.
A thorough evaluation of factors including claims, experience, culture and risk tolerance are the building blocks to an effective benefit plan offering - one that meets the needs of the company and its employees.
Download the free whitepaper introducing the benefits of Participating Group Life Insurance Contracts including an illustration of how an organization would have saved over $900k.
About Crawford Advisors:
Crawford Advisors is an independent nationally recognized insurance brokerage, consultancy and administration firm assisting corporate and individual clients in the design and procurement of health and welfare insurance.
For more information, contact William J. Grossmiller, V of Crawford Advisors by calling 410-229-8304. You may also register for his informative newsletters and webinars here.