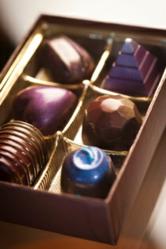 Our focus is to elevate the SPAGnVOLA brand to become Gaithersburg's best chocolate
GAITHERSBURG, MD (PRWEB) April 08, 2013
SPAGnVOLA Chocolatier's store opening, scheduled for early May at Lakeforest Mall, will capture the hearts and souls of consumers that have yet to sample its exquisite chocolates. Lakeforest Mall, an icon in the upper Montgomery County community since 1978, has been steadily rebuilding its image since undergoing new ownership in late 2012. As part of this transformation, SPAGnVOLA has eagerly joined the ranks to bring an exceptional gourmet chocolate experience to Lakeforest Mall customers.
SPAGnVOLA opened its first boutique and factory in Gaithersburg within the Kentlands community in 2011. SPAGnVOLA's existing boutique has already become a destination within Gaithersburg that draws chocolate connoisseurs from the Metro DC area and around the world. By joining forces, Lakeforest Mall and SPAGnVOLA will offer consumers of Gaithersburg, Montgomery Village, and Germantown another destination to enjoy premium chocolate treats.
"This expansion offers customers greater exposure to our brand, while allowing us to serve the community and expand our business organically," said Eric Reid, the CEO and Founder of SPAGnVOLA. "Our focus is to elevate the SPAGnVOLA brand to become Gaithersburg's best chocolate. In doing so, we will bring our product and services to customers who don't traditionally shop on the west side of Route 355, where our current boutique is located."
With its grand opening scheduled for early May, SPAGnVOLA will offer customers their signature single-estate gourmet chocolates, artisan gelato and in-house Barista. SPAGnVOLA customers will enjoy its signature hot chocolate – recently rated as one of the 10 best hot chocolates in the Metro DC area – as well as espresso based drinks served directly.
Marketing Director at Lakeforest Mall, Susan Davis, said, "We are thrilled to have Eric and SPAGnVOLA Chocolatier join us at Lakeforest Mall. He's a successful local entrepreneur offering our consumers an exceptional product. It's very exciting to be a part of SPAGnVOLA's continued success."
When constructing SPAGnVOLA as a vertically integrated business, Eric and Crisoire Reid – husband and wife team – vowed to build a business based on principals and giving opportunities for others to be successful. From their own 450 acre private farm estate in the Dominican Republic, the Reids cultivate and harvest heirloom quality cacao beans. Once fermented and dried, these beans are shipped to SPAGnVOLA's own manufacturing facility in Gaithersburg, Maryland, where they are roasted and freshly ground into premium single-estate chocolate.
As Head Chocolatier, Crisoire Reid creates beautiful, artisan truffles and bonbons that resemble fine jewelry. In addition to serving these edible gems, the Reids open their factory for free tours on the weekends, while hosting chocolate making classes, birthday parties and private events.
"There are many stories of successful entrepreneurship in Gaithersburg, and we are delighted to add SPAGnVOLA Chocolatier to that list," said Gaithersburg Mayor Sidney Katz. "Not only does SPAGnVOLA offer a product of unparalleled quality, it exemplifies good corporate citizenship and community engagement. We applaud SPAGnVOLA's expansion to Lakeforest Mall and look forward to their continued success."
About SPAGnVOLA:
SPAGnVOLA® is a premium chocolate brand and boutique (pronounced as spang – vola, meaning Hispaniola in Creole). The name refers to the island on which the Dominican Republic is located. SPAGnVOLA is not only the name of a new enterprise, but honors the land, people, and cultures of the company's founders, Eric and Crisoire Reid.
SPAGnVOLA premium chocolates are used to create decadent pieces of artfully crafted bonbons and truffles by Co-owner and Head Chocolatier Crisoire Reid. She has developed some of the most aromatic, savory pieces of chocolate artwork to be found. Mrs. Reid's exquisite creations not only capture the eyes, but overwhelm the palate, triggering never-ending desire. For more information visit http://www.spagnvola.com.
About Lakeforest Mall:
Lakeforest Mall is located off of I-270 at exit 11, Montgomery Village Avenue and route 355 and is managed by Urban Retail Properties, LLC, headquartered in Chicago, Illinois. Lakeforest Mall is a 1.1 million square foot family shopping center, with a dynamic mix of unique retailers and eateries, including anchors Macy's, JCPenney, Sears and Lord & Taylor. Additional information is available at http://www.shoplakeforest.com. Lakeforest Mall shopping hours are 10 a.m. to 9:00 p.m. Monday through Saturday, 11 a.m. to 6 p.m. Sunday.
About the City of Gaithersburg
In Gaithersburg, Maryland you'll find an excitingly diverse population of just over 64,000 people living in a wide range of housing types in warm, welcoming neighborhoods. We're home to world renowned information and biotechnology companies, and throughout the community you'll find unique family-owned restaurants and businesses. With more than 500 acres of parkland, award-winning recreational facilities and programs, performing arts venues, and a staunch commitment to protecting the environment, it's no surprise that Gaithersburg was recently ranked #23 on CNN/Money Magazine's national list of Best Places to Live. Learn more at http://www.gaithersburgmd.gov.
Media Contact
Eric A. Reid
SPAGnVOLA Chocolatier
240-654-6972
info(at)spagnvola(dot)com