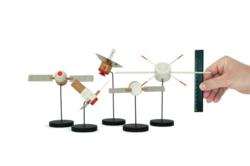 (PRWEB) April 02, 2013
The Wall Street Journal article and accompanying video interview with the journalist highlight the interest that has been generated across the astronautical community in these miniature wooden satellites carried by Toytoise.com. The article provides an overview of several of the satellites in the collection and details their function and form as quick-to-assemble miniature replicas of the actual satellites that orbit the earth for reconnaissance and scientific discovery.
The featured satellite collection from PapaFoxTrot are proudly carried by Toytoise.com and are priced at $30 each on Toytoise.com.
In addition to this collection, Toytoise.com carries a selection of fine design toys from renowned brands- Playsam, Playforever and PapaFoxTrot - that are leaders in their class and create innovative and timeless toys for the young and young–at–heart. Toys that are classic and contemporary, fanciful and functional, simple and sophisticated. Toys that appeal to both hemispheres of the brain by combining design and engineering. These seemingly contradictory characteristics are made to work together in the context of design. These products appeal to the sophisticated customer with an understanding and appreciation for the unique and well made.
Other products carried on Toytoise.com that have been featured in various forums include:
The Streamliner Rally Red from Playsam was featured in the Museum of Modern Art (MOMA New York) 2012 exhibition "Century of the Child: Growing by Design, 1900–2000."
The iconic Saab Roadster from Playsam is featured in the Elle Magazine 2012 Holiday Gift Guide and is a favorite gift for the holidays for the young and the young–at–heart.
The ever popular Bruno Roadster and Mimmo Aeroplane from Playforever have been featured in the Oprah "O" List.
Other popular holiday gift guide listings include Instyle, Vanity Fair, Canadian Family, and Road & Track.
All these and other fine toys and gifts available at Toytoise.com.
See http://online.wsj.com/article/SB10001424127887324445904578284211547480722.html for the full details on the coverage.