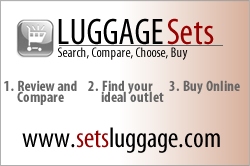 Find a large selection of high end designer luggage sets at very reasonable rates.
Pittsfield, MA (PRWEB) April 11, 2013
Financial Firebird's Luggage Sets Superstore made shopping for designer luggage even easier by adding a special new page where consumers may view all of their designer luggage sets together in one place. For the default view, users see all of the sets in a list by name and description. From there, they can expand any particular set to see a photo and description. Alternatively, change the Show Details to See All and view the photos and more details of every designer luggage set. Compare Sydney Love, Perry Ellis, Ann Klein, Geoffrey Bean, Bill Blass, and Diane von Furstenberg luggage sets, and many other designer luggage brand names available on the Luggage Sets Online Discount Superstore web site, in addition to a variety of brand name luggage and cute luggage sets.
"We provide a site for people to both select a luggage set and compare vendors for a low price," explained Mory Brenner, CEO of Luggage Sets Online Discount Superstore. "Most luggage sites allow viewers to view only their own inventory, in most cases far smaller than ours, and then a person would need to proceed to a second step of finding the best price. Our very large inventory of sets stands as the feature that separates us most from other sites. We also provide more ways to select and sort the sets to narrow down choices that meet the needs of the buyer."
Luggage Sets Online Discount Superstore continues to appeal to the consumer further by offering access to designer brand names for those individuals living outside major urban areas, and the site's unique features make it even more appealing by providing consumers with simple, money-saving shopping experiences. Even residents of the largest cities such as Manhattan where stores may display designer luggage prefer the Luggage Sets online site for it's wides variety, easy comparisons and very low prices.
"Saving the consumer money is definitely one of our goals," says Brenner. "We provide a site to shop one of the largest inventories of luggage sets found anywhere. We save our customers a lot of time, and make the whole shopping experience swift and simple."
The advanced search option on the Superstore site equips shoppers with the tools required to find the perfect luggage set. More detail in the advanced search option is offered here than on most other luggage shopping venues. Additionally, easy menu options, such as Cute Luggage Sets, assists luggage shoppers in finding fun luggage sets in so many different colors, patterns, and designs, designer luggage sets, and even bags from the Boston Leather Shop at Faneuil Hall by David King. Other pages dedicated to each specific designer allows shoppers to view all sets by a specific maker all in one place as well as information about each designer like Jenni Chan Luggage.
Between the discounts, sales and low prices to start compounded by special coupon codes for additional savings, travelers may find high end designer luggage sets at very reasonable rates. When looking for both a large selection and a great deal shoppers looking for suitcases including styles by famous designers, should explore the Luggage Sets Superstore including their new designer luggage sets page.
About Luggage Sets Online Discount Superstore
No other online shopping experience quite replicates that experienced by shoppers at Luggage Sets Online Discount Superstore. The wide variety of patterns and colors provide shoppers with a great selection of designer luggage sets, fun luggage sets, cute luggage sets, and children's luggage sets.