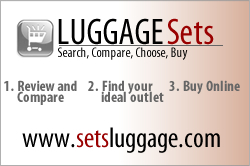 Consumers can enjoy shopping one of the largest selections of luggage sets online at Luggage Sets Online Discount Superstore, complete with tools to select the perfect luggage set at a great price.
Pittsfield, MA (PRWEB) April 04, 2013
The unique lines of luggage offered by the Luggage Sets Superstore site include discount luggage sets for everyone, including fun luggage sets, pink luggage sets, designer luggage sets, and other luggage in a variety of colors and patterns as well as children's luggage with kid appeal. Travelers with one of these cute or fun luggage sets never needs to worry about confusing suitcases on the baggage carousel. Just the sight of some of these bags can almost guarantee a smile and kicking off a vacation on the right foot.
Luggage Sets Online Discount Superstore stands apart from other online luggage venues due to the fact that the store provides a vast array of luggage sets in many different colors, sizes, patterns, and styles. The shopping experience becomes as individual as the consumer shopping for that perfect luggage set or piece of luggage. Speaking of unique and individual, be sure to check out the new page dedicated just to Fun And Cute Luggage Sets.
Perhaps the most noticeable, well known and expensive of the cute luggage set group may be the various options from Britto Luggage by Heys. Designs by famous Brazilian painter Romero Britto grace these durable hard shell suitcases from Heys USA. With bags like the Britto Palm set in your hands the only thing that might stop the packing for a St. Thomas vacation would be loading your luggage for a trip to St. Vincent, Miami or another warm destination. The Luggage Sets discount online store offers ten different Britto luggage design options. For children, Heys also makes hard shell luggage sets with Disney graphics such as variations on Mickey Mouse or featuring Disney characters like Tinker Bell, the perfect way to pack for an Orlando resort or Anaheim hotel.
Much less expensive but still making quite a visual statement shoppers may elect one of the very popular 2 piece soft shell luggage sets from Sydney Love with themes like vintage hotels, cats & dogs, wardrobe or several more. A few luggage companies make sets with animal prints including zebra, leopard, giraffe in both hard or soft shell. Choose from makers like Rockland, Benzi, Adrienne Vittadini and Travel Concepts for the different animal print varieties.
Not quite as bright, travelers may wish explore some of the Designer Luggage from Diane Von Furstenberg. Women may especially like one of her purple or pink luggage sets such as the Color On The Go Four Piece Spinner Set. Men may prefer the fun yet more subdued Diane Von Furstenberg Luggage like the Modern Tile 4 Piece Spinner.
All together the site designated over 70 luggage sets from their 300 as fun or cute, more than the total number of sets at other sites. Dots, flowers, designers-no plain black suitcases in this category. For people interested in an unusual set to stand out in a crowd visit the Luggage Sets Superstore cute and fun set page to find the suitcases that match your personality
About Luggage Sets Online Discount Superstore
No other online shopping experience quite replicates that experienced by shoppers at Luggage Sets Online Discount Superstore. The wide variety of patterns and colors provide shoppers with a great selection of designer luggage sets, fun luggage sets, cute luggage sets, and children's luggage sets.