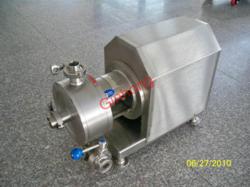 Jinhu, Jiangsu Province (PRWEB) April 02, 2013
Ginhong is the number one company to manufacture the ZX which is a premier process mixer. These are beneficial machines which are used by various industries to make various types of viscous emulsions or suspensions. It is designed to be used on large scale operations for large continues batches of emulsions and creams.
Ginhong' team of highly qualified engineers developed the ZX homogenizer to be the heart of the RB vacuum emulsifier mixer. It is an integral part of the process as it has the rotor and stator high shear mixer used in manufacturing viscous creams and suspensions in many different types of industry settings.
Ginhong's latest process machine is capable of handling a wide variety of tasks. The operations are all contained in one single unit so that the process mixer can perform the entire process including mixing, emulsifying, dispersing, vacuum, homogenizing and heating/cooling. It is specifically designed to be able to handle creams and emulsions of 30000-50000 cps viscosity. One advantage that the ZX inline mixer has over some of the other models is that it is capable of finishing a batch in a much shorter time period. This can save the industry time which translates into money.
The full line of machinery manufactured by Ginhong including their processing machine can be viewed online at http://www.ginhong.com/. There visitors can see each machine and read the specs concerning how it works and what types of workloads it is capable of handling. Customers can also visit the manufacturing plant to see how these machines work first hand.
About Ginhong
When Ginhong was founded, they were located in China's Jinhu, Zhejiang Province. However, the company produced high quality mixers and machinery and began to grow and therefore was forced to relocate. The company makes a wide variety of mixers, emulsifiers and other types of specialized equipment which are used in making many different types of products such as creams, gels or paints. Their high quality mixers and machines are used around the globe on both the domestic and industrial levels. Ginhong has the government certifications which demonstrate that they indeed meet international standards of quality.