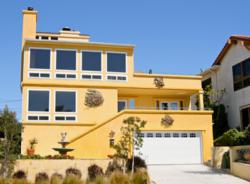 I love doing FHA loans for my clients as they allow more flexibility and homeownership to people who deserve it but can't reach the high limits non-FHA loans require these days
Burlingame, CA (PRWEB) April 02, 2013
The Federal Housing Authority (FHA), created in 1934 to insure loans made by approved lenders, such as W.J. Bradley Mortgage Capital Corp., allows for flexibility in terms and rates to helps first-time home buyers, and others, buy homes traditional lenders would not necessarily back.
According to W.J. Bradley Mortgage Capital Corp., the benefits of an FHA loan include low down payments, market-appropriate loan limits and low up-front mortgage insurance. In a market such as that on the Peninsula where the median home price is $778,000 having a lower rate on a high priced loan can compete with renting costs. FHA loans let new buyers put down as little as 3.5 percent and gift funds may be used for the down payment as well. There are also no set credit limits for these loans and lower credit limits are available contacting an approved lender who can look at your full financial picture is the best way to learn if you qualify.
"Relaxed guidelines combined with the state of the market have taken the stigma off of these loans and made them a great choice for nearly any borrower." says W.J. Bradley Mortgage Capital Corp. "I love doing FHA loans for my clients as they allow more flexibility and homeownership to people who deserve it but can't reach the high limits non-FHA loans require these days." Says Haigh.
The Michael Haigh Team specializes in providing a professional, efficient and educational loan experience. Backed by W.J. Bradley and Michael Haigh's notable history in the mortgage industry, The Michael Haigh Team is able to provide loan decisions much faster than large banks. Every aspect of your loan will be handled quickly and correctly so you know that nothing is left to chance. We're here to make this process as easy as possible for all parties involved and pride ourselves on making it right for every client. Contact us by visiting http://www.michaelhaighteam.com or calling 415-269-4461.
W.J. Bradley Mortgage Capital Corp. is a privately held independent mortgage lending firm, founded in 2003 and headquartered in Denver, Colorado. WJB is a boutique lender, backed by private investors, able to react quickly to market changes while offering exceptional service and products and industry-leading turn times. For more information, please visit http://www.wjbradley.com.