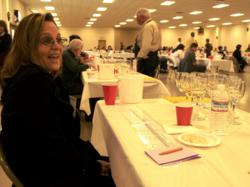 American wine consumers like wines from everywhere, according to the Consumer Wine Awards Competition
Lodi, California (PRWEB) April 02, 2013
American wine consumers like wines from -- everywhere -- according to the Consumer Wine Awards Competition. Winners ranged from big California Cabernets to delicate white wines and many shades of Moscato, according to competition chairman Jim Natsis and David Akin, co-chair. The program is presented by the Lodi Tokay Rotary Club and benefits their contributions to local and international charities.
"These sophisticated wine consumers, not wine industry people, found something for every wine lover at every variety, price and style," the directors said. Platinum winners were: Peirano Estate Vineyards 2012 Muscat, Woodbridge by Robert Mondavi 2012 Muscat Winemakers Selection, Barefoot Muscat NV, Austerity 2011 Proprietary Red Wine, Barefoot Bubbly NV, Eberle 2010 Cabernet Sauvignon, Gravestone Vineyards Paso Tombstone Red NV, Irish Family Vineyards 2010 Barbera, Macchia 2009 Rebellious Petite Sirah,Oak Farm Vineyards 2011 Barbera, Rhiannon 2011 Vinifera Red Blends, The Naked Grape Chardonnay (oaked) NV and Toasted Toad Cellars Zinfandel NV. (See complete list of winners at Consumer Wine Awards.
The competition winners for 2013 George M. Taber Awards, given to top-performing wines that retail under $10.00 were: Bota Box 2011 Merlot, The Naked Grape Chardonnay NV, Barefoot Bubbly Moscato Red NV, Rare Red (Red Blend) NV and Oak Leaf Moscato NV.
ABOUT CONSUMER WINE AWARDS
2013 is the fifth year for the Consumer Wine Awards, and the eighth year of a series of tasting events designed to refine and improve the consumer wine evaluation process and to expose wine enthusiasts to unique wines. The Consumer Evaluators assessing the wines in each category are the very consumers who are most inclined to buy and enjoy the wines of that category. The mission of the Consumer Wine Awards is to explore and introduce new ways to understand, embrace, engage and cultivate wine, to create a more sustainable and healthy wine industry. The goal is to provide wineries an opportunity to showcase their wines with other wines from around the world to independent consumers who will evaluate all wines and offer direct feedback and recommendations to other consumers who share similar affinities and passions. Proceeds from the event are used by Rotary for local and international service projects.