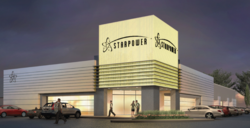 "This latest evolution of Starpower will be unlike any store- anywhere" stated David Pidgeon, CEO of Starpower.
Dallas, Texas (PRWEB) April 02, 2013
Starpower, a power-house of innovative products and solutions for the Home Entertainment market, plans on soon unveiling its newly re-designed flagship store in Dallas, Texas. The remodelling includes a new 15,000 square foot showroom as part of the existing North Dallas campus.
The new facility will double the retailer's selling space and, for the first time, offer products and services from all of its owned and related companies such as the 63 year old, Ed Kellum & Son Appliance Company. This allows Starpower the ability to broaden its product range beyond Home Entertainment to include a wide assortment of home appliances. In fact, the new Starpower will feature appliance vignettes with a working kitchen, from Sub Zero, Wolf, Viking, Miele, Thermador, Whirlpool, Kitchenaid and all of the appliance industry's best brands.
In addition to high performance audio/visual products and premium home appliances, Starpower will feature premium floor coverings. Under the banner of its affilliate Star Floors, Inc., one of the largest floor covering companies in the United States, the new Starpower will include hard surface and premium flooring from Shaw and Mohawk along with custom products previously not available to the general public.
Star Interior Resources, an affiliated construction resource company, will deliver on complete construction solutions, making it easy for the consumer to have everything "under one roof". "This is the most creative and innovative showroom ever seen that combines the finest in all of our industries" states Daniel Pidgeon, Chairman of Starpower. He adds, " We are proud of our success here and know that this new showroom makes a significant statement that Starpower continues to be ahead of the curve right here in our home town."
The company is equally proud of its talented staff whose knowledge and professionalism has earned Starpower its third Consumers' Choice Award. It is expected, as part of the expansion, that Starpower will add 30 employees bringing its employee count to over 200.
The store will remain open during the construction process with minimal interruption to existing displays and services.
About The Consumers' Choice Award:
Established in 1987, the Consumers' Choice Award® identifies and promotes businesses that deliver customer service excellence. The Consumers' Choice Award® has retained a leading independent research firm to conduct surveys in U.S. cities; Columbus , Atlanta, Dallas, and Houston. The winners are determined by consumers and not by a panel of judges. The survey covers a broad range of categories of interest to both the public and business communities. Its purpose is to publicly identify those establishments that have been voted by consumers as being their choice for excellence. The Consumers' Choice Award® is a most prestigious tribute to local businesses that serve their communities well. The program is encouraged by all levels of government and by business leaders. Find out more about The Consumers' Choice Award® by visiting http://www.consumerschoiceaward.com/