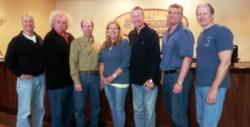 Coon Rapids, MN (PRWEB) April 01, 2013
The law firm of Barna, Guzy & Steffen held its annual meeting March 22 – March 23rd 2013 at Grandview Lodge in Nisswa, Minnesota. The meeting included a gathering of the Board of Directors as well as presentations by President Jeffrey Johnson and reports from the Practice Group Managers.
The shareholders at Barna, Guzy & Steffen LTD. reelected Jeffrey S. Johnson as President and Chairman of the Board of Directors.
Reelected to officer positions within the Board of Directors were Charles M. Seykora as Treasurer and Russell H. Crowder as Secretary. Bradley A. Kletscher, and William F. Huefner were also reelected to the Board of Directors for another term.
Re-named as Practice Group Managers were Jon P. Erickson, Michael F. Hurley and Joan M. Quade.
The firm looks forward to a very successful year as it celebrates 75 years of legal service and congratulates these attorneys on their achievements.
Established in 1938, Barna, Guzy & Steffen provides a variety of legal services for individuals, companies and governmental agencies and has worked with thousands of clients in the metro area. For more information about the firm, visit http://www.bgs.com.