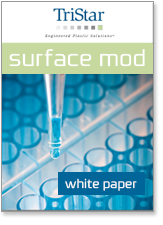 Many manufacturers are surprised to learn that by simply adding plasma surface modification to their production process, they can dramatically enhance the performance of their products
Shrewsbury, MA (PRWEB) April 02, 2013
TriStar Plastics announces the release of a complimentary report which highlights how plasma surface modification techniques are solving a broad range of manufacturing challenges by improving the performance of polymers, glass, metals and other materials. This free report is available for download at http://www.tstar.com.
Plasma surface modification alters the surface energy of manufacturing materials so they can better accept secondary procedures such as assembly, bonding, painting and coating. The treatments can improve the adhesion levels of contrasting materials, micro-clean and functionalize devices, and produce biocompatibility, hydrophobicity and permanent moisture characteristics.
"Many manufacturers are surprised to learn that by simply adding plasma surface modification to their production process, they can dramatically enhance the performance of their products," said Richard Cedrone, CEO of TriStar Plastics. "For instance, plasma is helping our industrial partners improve the adhesion levels of paints and inks to their devices, and on the medical side, the treatments are boosting the bond strength of polymer grips to surgical instruments," he adds.
The free white paper explores the advantages and considerations of different surface modification methods, answers frequently-asked questions and provides real-world case studies from a range of different industries.
"As a leader in plasma surface modification techniques, TriStar is pleased to provide this technical paper as a resource to the engineering community," Cedrone adds.
About TriStar Plastics
Founded in 1982, TriStar Plastics Corp. (http://www.tstar.com) is a forerunner in the engineering, fabrication and manufacturing of high-performance polymers, composites and self-lubricating bearing materials. Offering more than 300 different types of plastics and a complete line of bearings, TriStar provides materials across a broad range of industries. The company also pioneered the concept of using chemicals to alter plastic materials for enhanced surface modification. TriStar is headquartered in Shrewsbury, MA, with offices in North Carolina, Illinois, Southern California, and Texas.