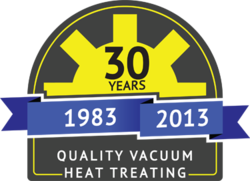 Solar is fortunate to have enjoyed continued growth from the East coast to the West Coast and from one facility to three.
Souderton, PA (PRWEB) April 01, 2013
Solar Atmospheres, founded in 1983 by current CEO William R. Jones, will celebrate its 30th anniversary in 2013. Many things have changed over the last 30 years. However, one thing has remained constant – the spirit of innovation within one of the largest commercial heat treaters in the United States.
With deep roots in metallurgy and the science of vacuum furnaces, Solar Atmospheres has shaped the industry with game-changing thermal processing technology. Solar's expert research and insight have added value to many of their customer's critical products – from medical implants to airplane seat tracks to parts on the surface of Mars. From one man's inspiration to three generations of leaders, Solar Atmospheres enters its fourth decade with a world-wide reputation for exceptional quality and service.
Corporate President Roger Jones adds, "We have seen many other heat treating businesses come and go over the years. Solar is fortunate to have enjoyed continued growth from the East coast to the West Coast and from one facility to three. We are grateful to the many people who have contributed to our success – our loyal customers, reliable supplies and our excellent, hard-working staff. We look forward to a future of continuing to pioneer new technology and processes to advance the industry and the business of our customers." For a detailed history of Solar's first 30 years, please visit http://www.solaratm.com
ABOUT SOLAR ATMOSPHERES
Solar Atmospheres is one of the world's largest providers of commercial vacuum heat treating services. Through unmatched technical expertise, equipment, and quality assurance, Solar's thermal processing produces bright, scale-free parts with minimal distortion. For clients requiring an "out-of-the ordinary" application, an in-house R&D team of metallurgists and scientists develop innovative, custom process solutions. Serving over 18 markets, Solar's state-of-the art services include vacuum brazing, carburizing, nitriding and advanced processing of raw materials such as Titanium, Tantalum, and nano powders. With over 50 furnaces ranging from lab sized to the world's largest commercial vacuum furnaces, Solar can efficiently handle any size job. Headquartered in Souderton, near Philadelphia, Solar also operates
plants in Hermitage, near Pittsburgh and in Fontana, California, near Los Angeles. Please visit http://www.solaratm.com for more information.
###