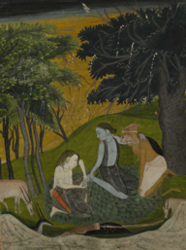 The Carlos Museum hopes to build a significant collection of Indian miniature paintings.
Atlanta, GA (PRWEB) April 02, 2013
Now on view at the Carlos Museum is a ninth-century red sandstone sculpture of the elephant-headed deity Ganesha, the "remover of obstacles," and an eighteenth-century miniature painting, illustrating a scene from the Ramayana, one of the greatest epic poems from India.
The sculpture of Ganesha shows the deity seated on a lotus throne, his head framed by lotus petals. His four hands hold an axe for removing obstacles in the lives of his followers; a mala or prayer beads, used in meditation; a bowl of sweets; and his broken tusk. The eighteenth-century miniature painting, heightened with gold on paper, depicts three major figures in Hindu mythology: Rama, his brother Lakshmana, and Hanuman, his devotee. In this scene, Lakshmana tenderly removes a thorn from Rama's foot as the latter steadies himself, his hand upon Hanuman's shoulder. Bonnie Speed, director of the Carlos Museum states, "The Museum hopes to build a significant collection of Indian miniature paintings, specifically of scenes from the Ramayana, as a resource for Emory University's departments of Religion, Middle Eastern Studies, and South Asian Studies."
On April 18 at 7:30 PM, Joyce Flueckiger, professor of religion at Emory, will introduce Ganesha in a lecture titled "Removing All Obstacles: The Worship of Ganesha in India."
The Carlos Museum thanks Chris M. Carlos, Joanne and Charles Ackerman, and Jayantilal K. and Geeta J. Patel and Family for their gifts of Asian art.
Brief video introductions on the iconography and origins of Ganesha: View
Video introduction to the illustrated epic scene from the Ramayana: View
About the Michael C. Carlos Museum
The Michael C. Carlos Museum of Emory University collects, preserves, exhibits, and interprets art and artifacts from antiquity to the present in order to provide unique opportunities for education and enrichment in the community, and to promote interdisciplinary teaching and research at Emory University. The Carlos Museum is one of the Southeast's premier museums with collections of art from Greece, Rome, Egypt, Near East, Nubia, the Americas, Africa, and Asia, as well as a collection of works on paper from the Renaissance to the present.