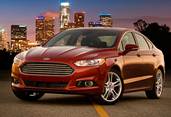 'Learn about the differences, features and gas savings of a hybrid vs. plug-in-hybrid and fully electric cars Saturdays in April,' states owner Don Gasgarth.
(PRWEB) April 03, 2013
As the price of gas continues its upward spiral (with no end in sight) consumers are looking for alternatives; a hybrid or electric vehicle is one way to fight back. So how do these cars get 20-80 MPG(e) more than conventional vehicles? Is a hybrid right for your driving habits? Is there a difference in the total cost of ownership?
These and and many other questions will be answered all April long (each Saturday from 10 am – 1 pm) at Don Gasgarth's Charlotte County Ford 3156 Tamiami Trail Port Charlotte, FL 33952
"Learn about the differences, features and gas savings of a hybrid vs. plug-in-hybrid and fully electric cars," states owner Don Gasgarth.
Presentations will cover how hybrids and full electric vehicles work from the experts at Charlotte County Ford. Professionally trained consultants will answer questions on just how these cars are able to stretch a gallon of gas. Staff will also talk about the future of Ford's high mileage cars, maintenance, features and options.
By the use of smaller more efficient engines, reduced weight with lightweight materials, and improved aerodynamics; then capturing energy from braking and actually shutting off the engine when stopped you can achieve some impressive savings. As a consumer this can mean fewer trips to the pump and at the same time reducing greenhouse emissions. Now let's review the Ford line up:
The Ford C-MAX hybrid is a five-door hatchback EPA-rated at 47/47 mpg City/Highway driving. Ford's C-MAX Energi is rated at 108 mpg equivalent (MPGe) in the city, 92 MPGe on the highway and 100 MPGe combined, with a top speed of 85 mph. It can drive up to 21 miles in electric-only mode, and can go up to 620 miles with a fully charged battery and a full tank of gas.
The Ford Fusion is a five-passenger, midsize sedan with front-wheel drive standard (all-wheel drive is optional).
The Fusion Hybrid model pairs a 2.0-liter four-cylinder with an electric motor and an electronically controlled continuously variable transmission (CVT). It's good for a maximum of 188 net horsepower, with fuel economy rated at 47 mpg City and Highway (yes, that's 47/47 mpg).
The Ford Fusion Energi is plug-in hybrid that uses the same 2.0-liter four-cylinder found in the Fusion Hybrid along with an electric motor and lithium-ion battery pack. Fusion Energi is designed to run on pure electric power for short commutes and can be charged using a 120-volt or 240-volt outlet. EPA-estimated 108 city/92 hwy/100 MPGe combined
The Ford Focus Electric is powered by a 107-kilowatt electric motor that has an estimated range of 76 miles per full charge and an EPA energy efficiency equivalent rating of 110 MPGe City and 99 MPGe Highway or 105 MPGe Combined. It's an electric car, so gas stations are a thing of the past.
Presentations held each Saturday in April starting at 10am
About:
Since 1990 Charlotte County Ford 3156 Tamiami Trail in Port Charlotte, FL has been servicing customer from Ft Myers to Sarasota with new and used cars and trucks. Their full service repair and collision center works on all makes and models. Their mission is to help consumers make intelligent decisions on their next car or truck.