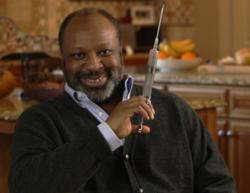 I want a cision. . .
Portland, OR (PRWEB) April 03, 2013
Angel Station Pictures, an independent producer of short made-for-the-Internet digital movies, releases the first installment in its My Digital Minute series: "Circumcision." The film, based on actual events, is the story of African-American seaman Walter Little who takes the word of the Brothers that in order for him to be like his hero Mohammed Ali, he will need a circumcision. Against the backdrop of the cold war the story unfolds on board a U.S. Navy aircraft carrier cruising the Mediterranean just weeks before the 1967 Six Day War in the Middle East. One morning, Walter appears at sick call and tells the corpsman, "I want a cision."
War stories are life lessons which can permanently ink veterans' minds. Many times these stories cause so much grief that fitting back into the American dream becomes difficult for veterans. Angel Station Picture's My Digital Minute series, produced under a SAG-AFTRA New Media contract, puts a focus on veterans' ability to fit back in to society after military service.
"Circumcision" is the story of Walter Little who naively accepts the bandwagon belief that to be like his hero Mohammed Ali, he will first need a circumcision. The story is told at breakfast by Walter, who is joined by his daughter, Major Mali Little, MD, US Army. Mali is a successful African-American woman whose future was secured by the outcome of her father's experience in 1967.
Angel Station has been in business since 1999 developing multimedia solutions and producing short motion pictures.
Maria Larrinaga
Media Contact
angel station pictures
email: ml(at)anglstapics(dot)com
Production Company: http://anglstapics.com
Official Website: http://mydigitalminute.com/circumcision.php
Production Photos: http://mydigitalminute.com/mdm01/presskit/MDM01-Photos-PressKit.zip