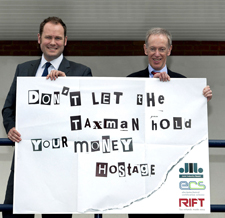 (PRWEB) April 07, 2013
The Joint Industry Board (JIB) has reported this month that over £150,000 has been recovered thus far for ECS cardholders since the organisation began its work with the tax refund specialists RIFT.
Steve Brawley, chief executive of the Joint Industry Board, said:
"The refunds that are being received are fantastic, we're really pleased that our partnership with RIFT is proving beneficial to so many."
PAYE employees with an ECS card who drive their own vehicle to temporary work sites could be entitled to a tax refund of anywhere between £2,000 and £4,000 – a healthy bonus for the year's work. Those who travel by public transport could also be able to claim.
Self-employed workers on the Construction Industry Scheme (CIS), can also contact RIFT to assist them with their tax returns and refund claim. With claim entitlements including phone bills, tool costs and work clothing amongst a number of other items, many workers are owed significant sums of money back from HM Revenue and Customs.
Adrian Gudgeon, 31, is the latest happy beneficiary – he received a refund of over £3,200 from his tax claim. He explained:
"As an ECS cardholder, I was sent information about RIFT along with my ECS card. RIFT provided a free assessment, confirmed I qualified for a tax refund and just a few weeks later I received my cheque. They even completed the forms for me over the phone as part of the service so getting my tax refund was easy."
RIFT are the UK's leading tax refund experts specialising in the construction industry, and can help with claims without any up-front costs, with quick and easy phone assistance as opposed to arduous and excessive forms, ensuring the process is as easy as possible for the many construction workers in need of advice. It's well worth the effort.
Having reclaimed over £45 million for construction workers in the UK to date, RIFT believe the job is far from complete, and estimate as much as £180 million is likely still outstanding to claim. Bradley Post, sales and marketing director for RIFT said:
"It's a national scandal that an estimated 943,000 construction workers are missing out on tax refunds – these hard working people are seeing their wage packets stretched more than ever before, and deserve to rescue this money from HMRC."
To find out more, ECS cardholders can contact RIFT via their website riftuk.com, Facebook page or simply by phone – either by calling 01233 653978 or texting 'RIFT ECS' to 80010.