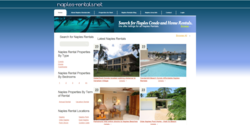 Naples Rentals Network will champion the Naples Rentals Market
Naples, Florida (PRWEB) April 03, 2013
Dreamogul Media, Inc tackles the Naples Rentals Market with their new website;Naples-Rentals.Net. Naples Rentals Network (NRN), as they are calling it, is the latest creation from "The Dream Team" at Dreamogul Media. The site is designed to compete with industry giants by bringing a fresh perspective, local flavor, and enhanced usability, all for a competitive price. NRN is optimized for local property owners and real estate professionals who are seeking exposure through search engine rankings.
Naples-Rentals.net enables users to easily and quickly search for the perfect vacation spot. Online searching gives renters quick, easy, information filled, up to date access to exactly what they are looking for. With detailed, expandable photos, in site tracking tools and up to the minute availability calendars the process is simple.
The Dream Team's stated and primary goal for the site is first page rankings for keywords such as; Naples rentals,Naples vacation rentals, and condos in Naples, Fl. Wesley Langdon, President of Dreamogul Media, Inc., recognized the importance of search engine rankings and traffic, "...similar sites are able to generate large revenue streams because of high rankings alone...". Langdon is confident Naples Rentals Network will achieve its desired benchmarks and compete globally for the Naples rentals market.