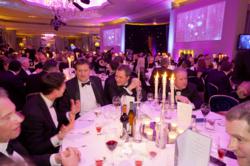 We are very proud to be at the forefront of encouraging managers to attain excellence for their clients
London (PRWEB UK) 2 April 2013
On 7 March 2013, Wendy Marston Events organised a splendid PAM Awards Gala Dinner.
The PAM Awards are the highest regarded of the UK wealth management awards. Each year dozens of managers enter the Awards in an in-depth evaluation process and are reviewed by a panel of leading independent industry professionals. The Gala Dinner held at The Dorchester in London included guests from the UK and UK offshore asset management companies, such as Close Brothers Asset Management, Smith & Williamson and Coutts. These firms and others have been identified as leading companies, worthy of the high accolade of a PAM Awards 2013 winner.
Wendy Marston Events is a specialist event planner, focusing on the organisation of awards programmes and their associated receptions, dinners and meetings, from small roundtable breakfast meetings to gala award dinners. Wendy Marston, founder and director, has been managing the PAM Awards for PAM Insight, the company behind Private Client Practitioner, for over 10 years, and in 2012 has taken over the organisation of their remaining suite of awards and events.
"We have had such fabulous feedback about the whole awards process this year, and about the celebratory dinner. We are very proud to be at the forefront of encouraging managers to attain excellence for their clients, and to be able to organise such an amazing event to recognise those that are achieving this," says Wendy Marston, founder and director.
2013 played host to the 14th Annual PAM Gala dinner, an event which continues to grow in popularity and prestige. Wendy Marston has been instrumental to its success and her efforts have been recognised by industry professionals:
"I know the huge amount of effort that goes into the running of these events and you did a superb job in hosting another hugely successful evening. As always there was a great atmosphere, superb food and excellent entertainment" - former marketing manager, Vestra Wealth.
The Dorchester provided an opulent backdrop, in their Ballroom at Mayfair, London. A superb 4 course dinner was served, including glazed cod with tomato risotto, smoked salmon tortellini & saffron & fennel consommé; orange & clementine jelly with mango basil sorbet, passion fruit & espuma; Cotswold venison, braised red cabbage & pumpkin ravioli flavoured with amaretto, cepe crème; chocolate caramelia bar withgreen apple sorbet & caramel crisp, prepared by Henri Brosi and his catering team at the Dorchester. The champagne was Louis Roederer Brut NV. Photographs were taken by Simon Hargrave. The iconic PAM Awards trophy, produced by Awardco, were handed out to the winners by comedian Ed Bryne, following speeches by James Anderson, Founder of PAM Insight SA and chairman of the PAM Awards Judging Panel, and Ed Hicks, the managing director of PAM Insight. Sponsors of the program were on hand to greet winners as they collected their award, including Kevin Bonar, Chief Executive Officer from the awards lead sponsor, Pershing.
Feedback from guests at the gala dinner has highlighted the industry's high regard for the PAM Awards and the importance of the event for networking with senior professionals in the industry.
"We think that the PAM process is incredibly professional and view an award from PAM as an excellent vote of confidence in our service. Indeed, it is fair to say that PAM raises the bar of professionalism for the industry as a whole and in that sense this type of competition is incredibly positive for clients." Head of Private Clients, Close Brother Asset Management
For a full list of this years shortlisted and winners, please see here.
Companies interested in improving the return on their events and awards programmes can contact Wendy Marston at Wendy Marston Events.