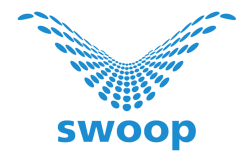 vastly increases the number of quality candidates available to sourcers, and the number of quality referrals received
San Francisco, CA (PRWEB) April 02, 2013
SwoopTalent, the enterprise ready social sourcing platform, today announced the general availability of their integrated talent sourcing and referrals solution. Swoop automatically matches their database of millions of potential candidates to jobs from your applicant tracking system to automatically match candidates to jobs – then automatically connect you to candidates via employee referrals.
Employees hired through employee referrals are better quality, faster hires than those hired through career sites or job boards. SwoopTalent vastly increases the number of quality candidates available to sourcers, and the number of quality referrals received. Integrating these two aspects of social sourcing improves the process of finding great talent.
"Many companies are searching for talent on the internet and separately running employee referral programs, which isn't how it should be," said Satish Sallakonda, founder of SwoopTalent. "Swoop finds a three way match between your jobs, the best candidates and your employee base to make sure that all of the best candidates out there are linked to you in the best possible way."
With candidates discovered across dozens of social sources, Swoop's patented social profile matching means that the candidate pool in Swoop is the most accurate and comprehensive in the industry. Swoop lets you access this fantastic source of talent with all of the most important social sourcing tools – job promotions, candidate contact details, talent pool management and employee referrals, all integrated into a single, easy to use enterprise platform.
Swoop integrates smoothly with applicant tracking systems and offers other powerful enterprise features. After more than two years of development and client success, and named an "HR Company to Watch" in the #HRWINS awards, Swoop's robust, proven solution is now generally available.
For more information, visit http://www.swooptalent.com.