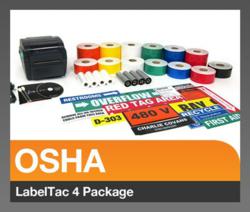 "The LabelTac 4 OSHA Package included everything we need to get started on the right path for making labels and signs that are OSHA compliant."
Lake Oswego, OR (PRWEB) April 01, 2013
A business that considers safety as a primary concern is a business that also complies with OSHA regulations and standards. Labeltac.com is now offering the LabelTac 4 OSHA Package for creating and printing both indoor and outdoor signs and labels. Labels and signs can be printed quickly and on the spot when and where they are required. The package includes all the color labels that OSHA recommends for identifying everything from products, equipment and areas that will assure a business has a safe working environment for employees and visitors.
The LabelTac 4 Industrial Thermal Printer is also included in the package. The printer is easy to install and will quickly print out labels in house including 5S, pipe marking, facility, lean, and even custom bumper stickers for marketing a business or its products. The printer does not require any special hook ups as it comes with software, cables and thousands of pre-made templates and symbols to get the job started and completed in just a short matter of time. The printer interfaces with familiar programs such as Microsoft Word, Excel, Open Office, or really almost any Windows-based program. But if these programs are not part of the business, the bartender light software is included.
The package includes professional quality labels that are UV, water, chemical and smear resistant making it ideal for use outdoors as well as indoors. Chemical containers can be clearly marked without the possibility of the label coming off or ruined if the chemical was accidently spilled or over flowed. Hazardous chemicals need to be marked properly to assure the safety of anyone coming in contact with it. Labels and signs can be printed up to 4 inches tall and 40 inches long with a strong adhesive back that will stick to most any dry, clean surface.
A business owner commented, "The LabelTac 4 OSHA Package included everything we need to get started on the right path for making labels and signs that are OSHA compliant."
For more information about LabelTac 4 OSHA Package, please contact http://www.labeltac.com/labeltac-4-osha-package/ or call toll-free (866)777-1360 to speak with a professional representative.