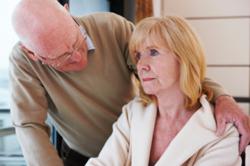 Mental telepathy is a vastly unexplored and potentially paradigm-shifting tool for medical research.
Los Angeles, CA (PRWEB) April 26, 2013
Colette St. Clair is a well-respected, renowned spiritual counselor and practicing mystic whose psychic gifts allow her to excel in mental telepathy, especially with those unable to speak for themselves. Her new website reveals groundbreaking new perspectives into the true cognitive abilities of people who, in medical terms, are considered to be mentally impaired or disassociated from reality and are unable to speak for themselves.
St. Clair uses telepathic communication to talk with people who are locked inside their minds due to autism, Alzheimer's, Down's syndrome, dementia, Aphasia, stroke and other forms of brain damage or cognitive impairment. As the intermediary between patients, their loved ones and caregivers, her unique work helps families bridge the communication gap. The results have shown to be surprising and life altering for both sides of this challenging and often painful equation.
St. Clair states, "Those who are 'locked' in their minds find tremendous relief and stronger self-worth in connecting on a deep level through this process with their loved ones. They also express comfort at having an opportunity to ask for whatever may improve their health or their quality of life." An eighty-six year-old stroke victim shared with Colette the following thoughts during a telepathy session, "What a Godsend! You can't imagine what it's like to be trapped in one's mind and not be able to speak. Sometimes it leads to frustration, anger or despair. At our age it hurts our dignity; but the worst is seeing what it does to our family."
For family members friends and caregivers the benefits are equally as powerful. Using telepathic communication often helps everyone involved gain the necessary information to help them in their management of time, energy and resources. And with a better assessment of their loved one's current level of awareness, they can be inspired to interact in more proactive ways. As for the precious emotional gifts that this process can bring, only the testimonies of those who have worked with St. Clair can best describe.
Colette St. Clair has over 13 years working as one of the most trusted spiritual advisors, whose clients refer to her as "an exceptionally gifted, kind, and brilliant mystic, whose psychic prowess allows for a high quotient of accurate data, personal information and incredible access to realms most humanity is unaware of but is so beneficial." Many of Colette's friends and clients are inspired by the idea suggested on her website and stipulating in their Living Will that she be hired as their trusted telepathic intermediary to protect their right to self-determination.
St Clair is already working with the medical profession to collaborate on solutions for their clients. Her vision is that telepathic practioners, like herself, who gain insight into mind/body wellness, will become a main stream resource for all people, especially to help the growing number of people locked in their minds, suffering in silence.
"Having witnessed, firsthand, Colette's remarkable skill in connecting with people normally beyond the reach of their friends and family, I can only say that her kindness and professionalism as a spiritual medium are assets on par with her telepathic gifts. She has helped me to improve or resolve cases that would otherwise have been almost impossible to address. I highly recommend her."
~ R. Schwartz D.C., Elite Master B.E.S.T. practitioner
Given that telepathy has no physical or geographical limitations, Colette St. Clair uses the Skype platform to communicate with her clients around the world. Her clients include animals, their families and veterinarians. For more information or to ask about live speaking engagements or interviews, please call 310.499.4220 10am to 7pm PST
Colette(dot)St(dot)Clair(at)mentaltelepathyworks(dot)com