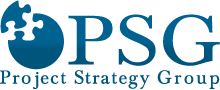 This is the first product of its kind that can identify IT projects, in real time, at a company level.
Hopkinton, MA (PRWEB) April 01, 2013
Project Strategy Group (PSG) announced today the launch of their first product, Project Indication Engine.
Project Indication Engine is a game-changing demand generation solution for IT vendors looking for the most efficient way to spend their sales and marketing budgets. Leveraging extensive relationships we have built with partners and publishers, we collect massive amounts of activity data about organizations across the web. Utilizing predictive analytics, proprietary technologies & processes, and a unique scoring mechanism, we develop and deliver ranked lists of companies likely to have IT projects based on particular topics.
"We are very excited to make this announcement today. This product will revolutionize the way IT vendors identify real opportunities," said Michael Kelly, Co-founder. "Using Project Indication Engine will allow vendors to cut down on time spent sifting through thousands of cold leads while pinpointing actual projects at specific targets."
"Using predictive analytics, our unique ability to "listen" to what companies are doing across the web, and a proprietary scoring algorithm, we are innovating a new form of sales intelligence," said Marc Laplante, Co-founder. "IT vendors that subscribe to this service will know the right time to engage a potential client, saving them time and money. This is the first product of its kind that can identify IT projects, in real time, at a company level."
To learn more about how this product can help your team identify companies with IT projects you are a fit for, contact:
Joel Grace, Director of Sales
Email: joel.grace(at)psg-innovate(dot)com
Phone: 508-614-8680.
About Project Strategy Group
Founded by two former TechTarget executives, Project Strategy Group (http://www.psg-innovate.com) was founded to improve the way that IT projects are identified, accessed and completed. PSG sees the future of IT research and project identification as a symbiotic relationship between IT vendors and IT professionals.