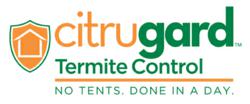 Tampa, Florida (PRWEB) April 01, 2013
Citrugard Termite Control has earned two noteworthy certifications that are recognized as marks of excellence and quality in the pest control industry: GreenPro and QualityPro.
"For the past year, our team has trained to master the principles and become certified in two reputable programs. This achievement is validation that every customer can expect only the highest quality service and the most environmentally-friendly treatments available in today's market," said Bill Dimarco, manager of services, Citrugard Termite Control.
Getting the Green Light from GreenPro
The GreenPro certification is offered by the National Pest Management Association (NPMA) and is one of the largest and most credible green certification programs for pest management professionals. In order to be certified, Citrugard had to prove that it meets comprehensive standards of the GreenPro program and comply in multiple qualifications to ensure safety and effectiveness. As a GreenPro certified company, Citrugard will undergo independent audits and is required to be recertified each year.
To earn the GreenPro certification, Citrugard's service technicians, salespersons and managers were trained and tested over the course of eight months. In addition to service standards in green pest management, Citrugard was also evaluated and approved based on business operations, such as criminal background checks, reference checks, drug screenings, etc.
GreenPro is managed by the Foundation for Professional Pest Management which has an independent advisory board that continually evaluates and improves the program's standards, materials and resources. This group is comprised of environmental experts, representatives from non-governmental organizations, representatives from the U.S. Environmental Protection Agency (EPA), and representatives from GreenPro certified companies.
Earning the Quality Stamp of Approval
The second certification, QualityPro, is recognized as "the mark of excellence in pest control." It is a program designed to increase professionalism in the pest management industry based on comprehensive standards. To be considered for a QualityPro designation, companies must be members of the National Pest Management Association.
The QualityPro program contains an environmental stewardship aspect that requires companies to offer Integrated Pest Management services (IPM) to its customers. Citrugard is required to have each of its (current and future) sales and service technicians meet testing minimums before they are eligible to work on customer accounts. QualityPro certifies that Citrugard ascribes to a set of standards far above the state requirements and federal regulations such as practicing clear communication procedures for contacting the customer to schedule the inspection.
"These certifications mean a lot to us. They show how committed we are as employees of Citrugard and as Floridians to being environmentally responsible," said Dimarco.
About Citrugard Termite Control
Certified by GreenPro and QualityPro certifications, Citrugard Termite Control uses the lowest environmental-impact products available today to treat drywood and subterranean termites. For drywood termites, Citrugard uses an effective, environmentally-friendly orange oil solution. For subterranean termites, it uses a variety of low-impact, environmentally-conscious control methods.
Citrugard serves the residential and commercial markets of Greater Tampa, Florida, including Bradenton, Clearwater, Sarasota and Lakeland. Its experts are certified and the company is backed by an independent parent company with more than 80 years of termite and pest control experience. Citrugard is a member of the Florida Green Builders Coalition, the Greater Tampa Chamber of Commerce, and the Greater Brandon Chamber of Commerce. For more information, please visit http://www.Citrugard.com.