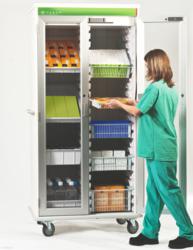 Warrington, Cheshire (PRWEB UK) 2 April 2013
UK electronic identification systems specialists, CoreRFID have signed a collaboration agreement with US technology company Terso to bring their new way of managing the distribution and use of pharmaceutical products, medical test or bio-bank samples and other medical supplies such as surgical prosthetics to the UK.
The system uses intelligent cabinets which know what products are removed from them, when and by whom. Cabinets communicate the data over a network to IT systems that either monitor usage, or arrange for replenishment. The system uses RFID (radio frequency identification) tags on the items being tracked and tag readers embedded in the cabinets so that it can carry out an instant stock check every time the cabinet door is opened.
Using the system, laboratories can improve their safety and traceability processes and pharmaceutical companies can use it to create an entire supplier-managed distribution model.
CoreRFID will sell, install and support the Terso products. This includes the Terso cloud based software application that enables users to install a network of smart cabinets without having to invest in expensive software development. The focus is on making it easy for users to get started.
The smart cabinets allows users to:

manage stock items automatically with tags adding to traceability & accountability for use.
integrate data into the supply chain / ERP systems bringing stock saving benefits.
Cabinets are available in a range of sizes and can be supplied with refrigerator and freezer options for temperature controlled material.
Over 1200 cabinets have been installed worldwide and the system is used in the UK by life-science products company, PROMEGA. CoreRFID will offer the Terso products for applications in the healthcare and medical research sectors as a Managed Medical Inventory Access (MMIA) system. More details are available in a short product overview attached to this release.