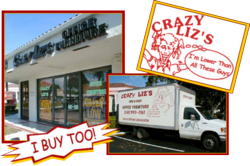 Crazy Liz's can also manufacture custom furniture to meet everybody's office's needs.
Delray Beach, FL (PRWEB) April 05, 2013
Head to Crazy Liz's today to purchase or sell used office furniture. Whether the need is of home office furniture, or is to sell old furniture in order to make room for new items, there's no better place to go than Crazy Liz's. With a wide selection of both new and used office furniture and equipment to choose from, is impossible to go home empty handed after a stop at this retailer. In addition to manufacturing new office furniture, re-selling used pieces and purchasing office goods, Crazy Liz's also makes replica furniture pieces of big name brands at much lower prices. Now there's a chance to find that high-end desk for sale at an everyday affordable rate.
Purchasing Furniture
Stop by the store today to browse through the large showroom filled with new and used desks, chairs, file cabinets, bookcases, computer tables, printer carts and much more. If it's here, is affordable. Because there are absolutely no overhead or high prices to be found here, this is the ideal spot to shop when looking to save a buck while still getting comfortable and stylish office furniture. In addition to pieces that are found on the showroom floor, Crazy Liz's can also manufacture custom furniture to meet everybody's office's needs. By providing the shop with a sketch of customer's idea, clients will be provided with a price and time frame for completion.
Sell Furniture
After a while, an office may simply be in need of a change and style upgrade. Rather than throwing the old office furniture away, clients can make a profit and apply it towards a new furniture purchase by coming to Crazy Liz's. Whether is selling one desk and chair or 20 desks and chairs, this top retail shop is happy to purchase used furniture. Not only this is one of the easiest ways to get rid of and sell used office furniture, but there's also an offer that no one cannot refuse.
About Crazy liz's
Sell new and used office furniture at low prices. Crazy Liz's targets small, medium and large sized businesses and home office businesses.
Media Contact:
Crazy Liz's
http://www.crazylizfurniture.com/
Adress: 1445 Congress Ave, Suites 11&12
Delray Beach, FL 33445 In colony Shoppes
Phone:(555) 997-1161
Fax: (561) 995-1099