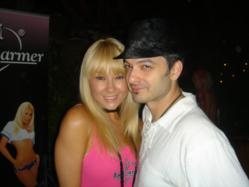 So many men forget that a healthy dose of self-confidence might just be the single most important factor in what attracts women.
San Mateo, CA (PRWEB) April 07, 2013
The reason it is so difficult to say exactly what attracts women is because there is no one set of traits, characteristics, physical attributes, or occupations that are guaranteed magnets to attract women, says Dating Expert Carlos Xuma in his new report.
"What most guys don't realize is that there is no set variable of factors that will attract women," says Xuma in his new attraction report. "However, there are certain traits and characteristics that the majority of women find attractive. That subtle difference is very important. That is why the new report helps men pick out just what they should focus on for an understanding of how to be more attractive to women."
It seems obvious, says Xuma, but so many men forget that a healthy dose of self-confidence might just be the single most important factor in how to attract and keep women.
"When men hear this they say, 'yeah, yeah, whatever," and ask to learn the latest pick up lines or what to text a girl," Xuma says. "But by brushing off the issue of confidence, they are already losing the game. The most important thing when it comes to what attracts women that a guy can do is step back and go to square one."
That might mean stepping out of the dating game temporarily to work on any issues that could affect healthy self-esteem, Xuma says.
"For instance, an overweight guy might spend six months working on getting his physical appearance to the point where he feels really good and attractive," Xuma says. "This is much more important than trying to memorize a pick up line. Or a guy with a stutter might join Toastmasters to help him improve that. Whatever is standing in a guy's way of healthy self esteem should be tackled before he steps into the dating pool if he's really interested in success."
What attracts women is a guy who likes himself, Xuma says. A guy needs to know he is worthy of the most amazing girl out there. The struggle for men is getting to the point where a guy feels confident and self-assured. Often this involves some soul searching and hard work. But the effort pays off ten-fold in improved self- confidence and self-esteem. Feelings of insecurity can hurt a guy's game more than anything else without a guy even realizing it. Confidence builds confidence, as well. Once that is tackled, the world is at his feet, Xuma says.
Carlos Xuma has been a dating expert and attraction adviser for more than 10 years and has spent years teaching hundreds of men important dating skills, such as how to flirt with girls, how to pick up women, and what attracts women. He is the author of The Bad Boy Formula, Secrets of the Alpha Male, the Girlfriend Training Program, and numerous other books and articles. Xuma has appeared on ABC and CBS television, as well as Playboy radio.
For more information, visit Carlos Xuma's website at http://www.carlosxuma.com.