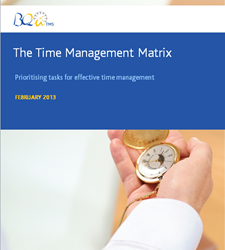 (PRWEB UK) 8 April 2013
BQuTMS a leading time management system provider in the UK has introduced a whitepaper on how to implement the "Time Management Matrix" with hopes of helping individuals prioritise their daily work to improve their productivity.
The time management matrix was originally introduced by Stephen Covey who categorised tasks according to their importance and urgency. He proposed that tasks can be broken down into those which are more important than others. BQuTMS has identified this as a useful tool for improving time management.
According to Covey every task can be categorized as either "Urgent" or "Not Urgent" and either as "Important" or "Not Important". An Important Activity is one that has an outcome that leads to the achievement of your goals, whether they are professional or personal. An Urgent Activity demands immediate attention, and are often associated with the achievement of someone else's goals.
Time is the most precious yet most wasted resource given to a person. People are adopting many methods to save time, mainly by prioritising for effective time management. The new whitepaper looks at the reasons people are facing time management issues, the time management objectives that people are trying to achieve, and how the use of time management tools like the time management matrix can help.
The whitepaper is available for download through the BQuTMS website http://blog.bqutms.com/whitepapers/
About BQuTMS
BQuTMS, a cloud based time management system, is a product developed by BQu, a subsidiary of Peritempo (Pvt) Ltd based in the UK. BQuTMS is built to help organisations in time management, employee attendance management, improved productivity and project management. Furthermore BQuTMS recently launched its new biometric student attendance and engagement management system, and in line with this has included resources on managing successful compliance through risk based management.