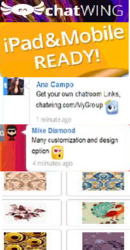 New York, NY (PRWEB) April 07, 2013
Chatwing.com empowers the idea of social relevance through the wonderful thoughts pointed out by the company's core developers. The developers believe that social relevance can support the foundations of any company in the online arena. More than that, it can propel any business to the far reaches of success. Chatwing.com also introduces the importance of its newest chat app that is loaded with communication features.
Chatwing's developers have pointed out that social relevance begins in the mind of the visionary. By having a cause, any entrepreneur will become more focused and he will commit to his strategies and plans. Chatwing chatbox can boost any social marketing agenda by creating a stable source of exposure. It is powerful enough to reach the social media premise, as well as other interest groups. The registered Chatwing user can even gain customization leverage.
Social media login setup is an important feature of the Chatwing chat tool. Through this, the business owner can share his social relevance concepts with thousands of users in any Chatwing chatroom. Since the visitors can log in through Facebook, Google, Yahoo, and Twitter, there are more options for spreading any cause. Some Chatwing users have remarked that the social media advantage boosted the efficiency of their marketing efforts by more than 50%.
To fuel any campaign that delves in social relevance, one must stick to a definite strategy that saves time and money. Apart from that, the cause will become better if users can really benefit or learn from it. Chatwing supports this kind of movement, and its developers will offer important online tips to all web users. The company also has a stratagem for bringing a better website chat experience for everyone.
About Chatwing.com
Chatwing.com specializes in the new field of website chat. Over years, the Chatwing team has introduced live chat widget for hundreds and thousands of blogs. The Chatwing application bridges people from many parts of the world, creating global synergy through the Internet. The shout box can be installed in just seconds, and it can be used for varying purposes such as leisure and Internet marketing. It also allows a user to customize the size, color, and name of the widget. Chatwing is 100% free for everyone.