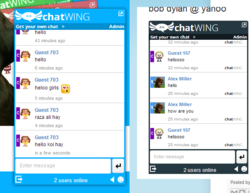 Cambridge, MA (PRWEB) April 08, 2013
The growth of any online community lies on the way people exchange data on a daily basis. Through successful data relay, people are able to reach their online goals in the shortest time possible. To foster the convergence found in online communities, Chatwing.com releases an embeddable chatroom that can help users in terms of global exposure. The chat tool is known for its versatility and usefulness in all niches.
Chatwing chatbox is known for its advanced customization options. Even now, the developers are always adding more features and choices for registered admins and web users. The color schemes are now varied, allowing users to have greater preferences. Along with color schemes, the user can even set up admin parameters such as visitor idle time, word filters, login options, and banning system.
One of the modification features offered is a background image upload setup. With this, users can upload background image links and this can create long-term exposure. Apparently, brand logos and promotional pictures can be displayed to become web visitors top of mind. Users can also produce a chat box that is uniquely theirs in design or form through activating the CSS customization method.
The Chatwing Development Team is always looking forward in creating better website chat experiences for many users and chatroom visitors. In order to do this, Chatwing's developers are committing to strategies that will improve the overall efficiency of the company's chat tool. Information about updates will be posted by Chatwing developers in the company's Facebook page.
About Chatwing.com
Chatwing.com specializes in the new field of website chat. Over years, the Chatwing team has introduced live chat widget for hundreds and thousands of blogs. The Chatwing application bridges people from many parts of the world, creating global synergy through the Internet. The shout box can be installed in just seconds, and it can be used for varying purposes such as leisure and Internet marketing. It also allows a user to customize the size, color, and name of the widget. Chatwing is 100% free for everyone.