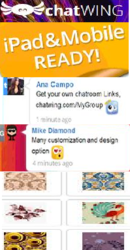 Portland, OR (PRWEB) April 11, 2013
Chatwing.com and its team of elite developers have introduced the latest version of its chatroom to various research groups. According to the company's developers, the chatroom tool can contribute to the overall visibility and connectivity rate of a website. Researchers from any niche imaginable can gain communication advantage with the help of Chatwing's dynamic app.
The chatroom linking system is a new feature of the Chatwing chatbox. When it was introduced to online users, Chatwing received positive feedbacks. The basic notion of the chat network system is to link user chatrooms within certain groups. These groups can be freely explored by any user. Once chatrooms are linked, the user can gather more information—a feat that is totally useful for data researchers. The developers stated that the speed of the chatroom won't be affected even if other chatrooms are linked.
Chatwing also launched the second theme of the platform: live user detection. Once this theme is activated, it takes up an extended portion of the chat box. Now, everyone can see the active users in the lounge, and they can even check their messages. A researcher can benefit from this, especially if he needs to double-check suggested information.
Currently, the company's developers are now brainstorming regarding the new features that will be introduced in the coming months. "There might be more themes, so users can look forward to that. Everyday, we are receiving feedbacks and theme suggestions. Right now, we can ensure that everything will run smoothly," Says Clive Grant, one of the company's researchers and 'think tanks.'
About Chatwing.com
Chatwing.com specializes in the new field of website chat. Over years, the Chatwing team has introduced live chat widget for hundreds and thousands of blogs. The Chatwing application bridges people from many parts of the world, creating global synergy through the Internet. The shout box can be installed in just seconds, and it can be used for varying purposes such as leisure and Internet marketing. It also allows a user to customize the size, color, and name of the widget. Chatwing is 100% free for everyone.