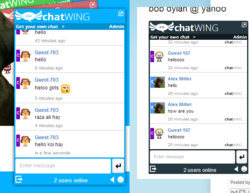 San Jose, CA (PRWEB) April 13, 2013
The newest version of the Chatwing chatroom is now available for thousands of users from different niches. This latest version has useful features, such as user detection theme and additional color designs. The developers have also improved the speed of the chatroom, so future glitches will be prevented. Now, Google and Yahoo users can even login with through their email accounts.
The user detection is the second theme presented by Chatwing.com. The first theme is the default chatroom style. The user detection theme has an extended sidebar that shows the recent active visitors of the chatroom. Aside from that, their messages will also appear in the sidebar. The purpose of this theme is for easier interaction, and this is useful for website marketers and web users. The speed of the chatbox is not affected by the extended sidebar.
Chatwing's developers have also added new color schemes to serve more web users efficiently. More than 20 color palettes were added to provide new designs for users. Font styles can also be set, along with other admin parameters. The user can also set the allowed login methods for all visitors of the chatroom.
Chatwing.com will have more upcoming features over the course of 2013. These features will provide better chatting experience to all Chatwing users and visitors of the chat box. The developers of the company are also randomly visiting blogs and forums in order to share this communication leverage to everyone.
About Chatwing.com
Chatwing.com specializes in the new field of website chat. Over years, the Chatwing team has introduced live chat widget for hundreds and thousands of blogs. The Chatwing application bridges people from many parts of the world, creating global synergy through the Internet. The shout box can be installed in just seconds, and it can be used for varying purposes such as leisure and Internet marketing. It also allows a user to customize the size, color, and name of the widget. Chatwing is 100% free for everyone.