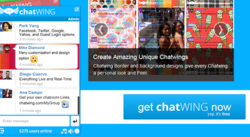 San Antonio, TX (PRWEB) April 14, 2013
Rebranding, one of the traditional moves of businessmen and entrepreneurs, is an act that requires a dynamic stratagem. This fact is already known to over hundreds of online professionals and niche experts. Chatwing.com—a company that excels in connecting people online—launches the recent version of its chatroom tool. The developers have stated that the new version can help boost any online rebranding process.
The Chatwing chatbox is a versatile tool that can be installed to any blog or website. The installation time takes only few seconds, and the user can now spend much of his time designing the appearance of the chatbox. In the customization process, the user has the power to design the chatroom from scratch. Color schemes and font styles can be combined, and the user can also put background images.
The feature that determines the usability of the Chatwing chat tool in rebranding processes is its new feature: chatroom linking. A registered Chatwing user can now have the opportunity to link his chatroom with the chatrooms of other users. He can select from any available groups or networks in the account dashboard. Once the user's chatroom is linked, the potential for global connection is really high. A rebranding campaign can reach hundreds of users and visitors in just days or weeks of usage.
Aside from rebranding, Chatwing chat app can also be used for any online marketing campaigns. The chatroom has the capability to increase a website's online visibility rate by more than 70%. This percentage depends on the strategies of the website owner and the popularity of the niche. Nevertheless, Chatwing tool offers significant boost.
About Chatwing.com
Chatwing.com specializes in the new field of website chat. Over years, the Chatwing team has introduced live chat widget for hundreds and thousands of blogs. The Chatwing application bridges people from many parts of the world, creating global synergy through the Internet. The shout box can be installed in just seconds, and it can be used for varying purposes such as leisure and Internet marketing. It also allows a user to customize the size, color, and name of the widget. Chatwing is 100% free for everyone.