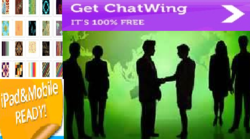 Indianapolis, IN (PRWEB) April 15, 2013
Based on the global research done by many Internet professionals, people are now choosing e-commerce compared to other merchandise platforms. One of the known factors affecting this is the speed of online transactions. E-commerce website owners who want to speed up their logistics can use the newest chatroom app offered by Chatwing.com. The chatroom offers simple but cutting-edge communication features that can be understood and installed in seconds.
Since Chatwing chat app favors real-time communication, e-commerce site owners can use it as a customer inquiry tool. Now, visitors can post their concerns and suggestions in the chatroom and they can also ask product-related questions. The appearance and functions of the chatroom can be edited freely by the admin. To match the appearance of the website, the user can access the color schemes in the dashboard. There are many colors to choose from that can create dozens of combinations.
Chatwing also allows users to upload image links of their choice. Any image link is possible, as long as it's not broken. This is why the Chatwing tool has been used recently for marketing and branding purposes. To prevent trolls and spammers from damaging the credibility of the chatroom, the user can set up word filters. Chatwing's banning system also lets the user determine how long a visitor can be banned. Deleting offensive messages can also be done in a single click.
The Chatwing chatbox appeals to everyone who wants to get the most from their online chatting experience. For e-commerce professionals, this is a handy tool that can boost global connectivity at a significant rate.
About Chatwing.com
Chatwing.com specializes in the new field of website chat. Over years, the Chatwing team has introduced live chat widget for hundreds and thousands of blogs. The Chatwing application bridges people from many parts of the world, creating global synergy through the Internet. The shout box can be installed in just seconds, and it can be used for varying purposes such as leisure and Internet marketing. It also allows a user to customize the size, color, and name of the widget. Chatwing is 100% free for everyone.