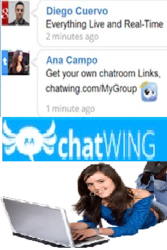 Cambridge, MA (PRWEB) April 16, 2013
Fashion blogging will never die, at least according to many professionals in the online arena. According to these professionals, designers are always coming up with fashion statements that can spark discussions between users. Chatwing.com expanded to the fashion blogging niche by introducing its newest chatroom tool. In this version, fashion bloggers can reach more groups by connecting their chatrooms in a specific network. Aside from that, the features of the Chatwing app were tweaked so they can now deliver maximum connectivity potential.
Since fashion bloggers tend to discuss lots of things, Chatwing's developers focused mainly on connectivity. "We reviewed all suggestions of bloggers and apparently, we came to the conclusion that a connecting system is required. This gave birth to the chat network option that can be accessed in the account dashboard," Developer Mike Diamond stated. Mike Diamond has also spearheaded inquiry campaigns in the fashion blogging niche. The chat network system can handle as many chatrooms as possible everyday. Despite this, the company's developers are still working hard to ensure that no chatroom lags will occur.
Social media is also another important factor that must be noted in the Chatwing chatbox. Fashion bloggers can use their Facebook, Twitter, Google, or Yahoo accounts to log in. With this accessibility, the bloggers can expand their networks and reach many groups in just days. Chatwing developers have estimated that the exposure of a website can go up as much as 60% if the chatroom usage is continuous.
The Chatwing Team will also post updates in their Facebook page and blogs. These update content will discuss important points in proper chat lounge usage and other online promos spearheaded by the company. Registered users are advised to visit the Chatwing Facebook page for greater awareness.
About Chatwing.com
Chatwing.com specializes in the new field of website chat. Over years, the Chatwing team has introduced live chat widget for hundreds and thousands of blogs. The Chatwing application bridges people from many parts of the world, creating global synergy through the Internet. The shout box can be installed in just seconds, and it can be used for varying purposes such as leisure and Internet marketing. It also allows a user to customize the size, color, and name of the widget. Chatwing is 100% free for everyone.