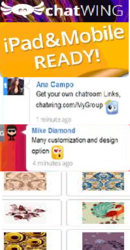 New York, NY (PRWEB) April 18, 2013
Bloggers specializing in the business arena can now rely on the newest version of the Chatwing chatroom tool. In this latest release, users can add background images and they can also choose from different color schemes. The chat network system has also been introduced for greater connectivity among users from different parts of the world. The developers have also estimated that the newest chat app can increase the traffic rate of a website by more than 50%.
The chat network system of Chatwing sets the tool apart from other chat apps. According to the delivers, this feature was gathered from the suggestion of many web users. The premise of the chat network system is simple; a registered user can link his chatroom to other chatrooms in one niche. This allows for a higher rate of connectivity at any given time. No matter how many chatrooms are interlinked, the speed of the platform won't be affected.
Business bloggers can now rely on the marketing potential of the Chatwing chat box. Everyday, thousands of web users can discuss in the chat tool and they can also create their own topics. Now, business bloggers can build subscriber groups within days and weeks of Chatwing usage. Another strong factor of the chat tool is social media integration. Currently, users can log in with their Facebook, Twitter, Google, or Yahoo accounts. This rate of accessibility can benefit bloggers from any niche.
Chatwing's developers are always determining new solutions to make the world of blogging easier and more profitable. In order to attain various online goals, Chatwing Team is creating strategies one after another. These strategies ensure the success of the chat app for many years.
About Chatwing.com
Chatwing.com specializes in the new field of website chat. Over years, the Chatwing team has introduced live chat widget for hundreds and thousands of blogs. The Chatwing application bridges people from many parts of the world, creating global synergy through the Internet. The shout box can be installed in just seconds, and it can be used for varying purposes such as leisure and Internet marketing. It also allows a user to customize the size, color, and name of the widget. Chatwing is 100% free for everyone.