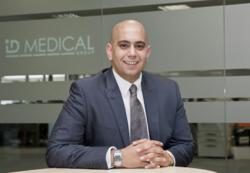 London (PRWEB UK) 2 April 2013
ID Medical is rapidly becoming the medical recruitment sector's company to watch. Recognised in its first year entering Sunday Times' Best Companies as an 'Outstanding Organisation' in 2013, and more impressively achieving three consecutive years positioned in the annual Recruiter FAST 50 league achieving number one growth company across this period of time, ultimately being one of only 7 UK recruitment companies demonstrating sustained growth, and one of only three medical recruitment companies even making the required grade.
Ranjit Nandha has achieved a lot in his past 5 years working at ID Medical. Following his career, having worked for several blue chip organisations prior, Nandha joined ID Medical as a recruitment consultant. He quickly grew his knowledge base and rose through the ranks to manager, senior manager, operations manager, head of operations, culminating at age 34 being welcomed onto the Board of Directors as ID Medical's director of operations.
When approached for comment, Nandha responded, "The step to director of operations is something I aspired to and I take on the role with great gusto and gratitude. I aim to continue to drive forward the financial and structural growth strategy across the ID Medical group of companies, attaining our position as market leader in the industry, whilst sustaining our moral and ethical way of conducting business, both internally and externally with our clients and candidates."
Deenu Patel managing director at ID Medical added, "From his joining the company Ranjit's determination and talent was something to be admired, and whilst being recognised as now taking on one of the most senior roles in our business, Ranjit remains focussed, level headed and ultimately regarded as an inspirational leader to his workforce. The board of directors intends this new position in the company to demonstrate that Nandha is a seriously valued member of the senior management team."
ENDS
About ID Medical.
ID Medical (HQ in Milton Keynes with office in central London) was established in 2002 and has since maintained its enviable position as market leader in the provision of high calibre medical staffing to both the public and private sectors. As the UK's leading provider of locum doctors, nurses, AHP/HSS and clerical staff, ID Medical holds preferred supplier contracts with over 80% of hospitals nationwide. It supplied over 1.3 million hours in 2012.
Founded on its core principles of quality of service, dedication, innovation and 100% commitment, the ID Group provides a complete medical staffing solution to its valued partners. Its services form part of the NHS procurement, with the ID Medical brand becoming synonymous with quality and dedication to the requirements of its clients and candidates alike.
In 2013 ID Medical achieved three years featured in the annual Recruiter FAST 50 league, one of only 7 UK recruitment companies demonstrating strong sustained growth, and one of only three medical companies making the grade.
In its first year entering, it was accredited two star rating signalling 'Outstanding Organisation' by Sunday Times 100 Best Companies To Work For 2013.
For further information on ID Medical please contact:
Caryn Cooper
Head of Marketing
ID MEDICAL - ID House - 1 Mill Square - Wolverton Mill South - Milton Keynes - MK12 5ZD
t: +44 (0) 1908 555 498 f: +44 (0)1908 552 825
w: id-medical.com e: caryn.cooper(at)id-medical(dot)com