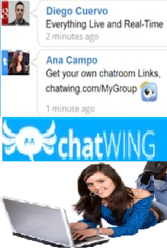 Cambridge, MA (PRWEB) April 19, 2013
Social anxiety, one of the biggest problems of people today, is now getting bombarded with solutions. According to various professionals, meditative techniques can even counter social anxiety and the days of temporary pills are shifting. To help people have better discussions regarding social anxiety in workplace, Chatwing Development Team created a chatroom tool with various connectivity features. The tool also has wide customization options that can be accessed by anyone.
The Chatwing chatbox has been introduced in other communities many months ago. These communities are usually filled with discussions about certain topics—social anxiety is one of these famous topics. The developers of the chatroom believe that it is beneficial for users to maintain global connection in dealing with complicated topics and issues. The Chatwing tool allows social media setup so that users can log in through Facebook, Twitter, Google, and Yahoo. This social media integration can help users connect to larger groups of people.
Recently, the Chatwing Team introduced the chat network system for better discussions and connectivity. The chat network works on a simple premise—a user can connect his chatroom in a network. Now, other chatrooms can also joint the network, creating a web of connectivity that spans one location after another.
Chatwing also believes that it can bring better solutions to social anxiety through the means of informative global chat. In line with this, the company's developers are also implementing several awareness campaigns.
About Chatwing.com
Chatwing.com specializes in the new field of website chat. Over years, the Chatwing team has introduced live chat widget for hundreds and thousands of blogs. The Chatwing application bridges people from many parts of the world, creating global synergy through the Internet. The shout box can be installed in just seconds, and it can be used for varying purposes such as leisure and Internet marketing. It also allows a user to customize the size, color, and name of the widget. Chatwing is 100% free for everyone.