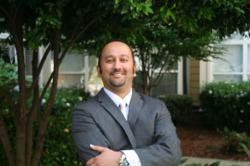 Amish is an extremely active and passionate individual.
Charlotte, NC (PRWEB) April 01, 2013
Amish Shah, CEO and founder of Millennium Search, is unveiling his new website, TheAmishShah.com. The new web presence will highlight his work as an entrepreneur, startup advisor, crowdfunding expert and investor, and will serve as a portal for his thoughts on startups, the technology industry and successfully growing businesses. Shah has been involved in driving the success of multiple ventures for over 20 years.
Shah's flagship organization is Millennium Search, a technology recruiting firm for high growth software companies. Founded in 2003, Millennium Search was profitable in the first 90 days and has been consistently growing every year. The company has evolved into the leader in executive search for technology focused startups and organizations, and has served as a partner to several high organizations backed by the industry's top venture capitalists. Millennium Search is currently closing its best quarter in the company's history, and is poised to continue growth into Q2.
"When I started my first company in 1998, I was 25. We didn't have all of the tools, resources, accelerators, incubators and mentors for first time entrepreneurs that are available today," says Shah. "Back in the 90's, leaving college early to pursue your dreams was unheard of. People didn't get it. Now it's cool to be an entrepreneur in high school or college, and more people are successfully launching their own companies rather than working for big companies. I don't see that trend changing anytime soon."
Shah started as an executive recruiter for software companies in 1995. He is now considered an expert and thought leader in the field, and will be featured in the Career Couch article on approaching and working with recruiters. The article is set to appear in the Sunday Edition of The New York Times on April 7th, 2013.
After several years working with technology startups, Shah began serving as an advisor for several emerging companies. Among these startups includes EarTop Technologies, a company designing and manufacturing high-quality wireless audio and video technologies. Eartop's flagship product, The Flow Series, is a wireless component for use with higher quality headphones and audio devices. The Flow Series is set to be released in Fall of 2013.
Ketan Rahangdale is the CEO and founder of Eartop Technologies. He is a rising star in the technology industry, and was on the Empact100 list for CEOs under 30 in 2012, and the only member under the age of 20 at the time.
"Amish is an extremely active and passionate individual with a comprehensive understanding of the VC and Angel Capital worlds," says Rahangdale of Shah. "He would be a strong asset to any business, and leads his team to success through his many previous trials and errors."
"Ketan's drive for innovation and passion are contagious," says Shah. "His company is poised for a big year. I have no doubt that Eartop will be very disruptive within the wireless industry."
The website will also be debuting Sierra Maya Ventures, Shah's investment fund aimed at financially backing startups and emerging companies. The fund aims to provide backing for roughly five companies per year, and will target early stage startups with disruptive potential in their respective sectors.
The website will act as a focal point for Shah's brand, portfolio, and thought leadership. To learn more about Amish Shah and his work, visit TheAmishShah.com.