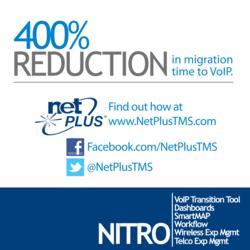 NetPlus shares lessons learned in managing hybrid environments
Rockville, MD (PRWEB) April 01, 2013
NetPlus will host a session on Telecommunications Management strategies at ITPX/NCUG Conference & Trade Show. Jim Gilmour, Product Manager at NetPlus plans to address managing telecommunications infrastructure in a diverse environment.
"I am honored to be invited to speak at ITPX. As we move into next generation technologies such as VoIP, UC, and SIP, the way we manage telecommunications will change. NetPlus is very adept at managing hybrid environments and we'd like to share our lessons learned and real life scenarios," said Gilmour.
In anticipation of the enterprise migration from legacy telephone systems to VoIP and unified communications, NetPlus has developed tools to automate the migration and also manage multi-switch environments. Additionally NetPlus products such as Wireless Expense Management, Telecom Expense Management, and Inventory Control have helped clients all over the world gain efficiency and cut costs.
About NetPlus
NetPlus is a leading Communications Management solutions provider for both commercial and government entities. With over 25 years of experience NetPlus offers a suite of solutions for telecom expense management, data validation, fault management, inventory tracking and control, provisioning, and more. Customers like Department of Defense, Department of State, United States Air Force, Avaya, Verizon, and the Pentagon utilize NetPlus solutions for the daily operation of their communications and data network. NetPlus is JITC certified and can be procured through Vanguard and GSA. Headquartered in Gaithersburg, MD, NetPlus is a division of Ventraq Corporation. For more information, visit http://www.NetPlusTMS.com.