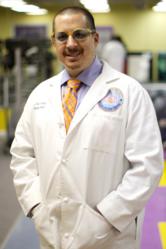 "Ask not what your lungs can do for you. Ask what you can do for your lungs." Dr. Noah Greenspan
New York, NY (PRWEB) April 01, 2013
The Pulmonary Wellness & Rehabilitation Center has partnered with the American Lung Association to bring its renowned Better Breathers Club to New York City. Better Breathers Clubs are support groups for those who suffer from chronic pulmonary diseases including Asthma, Chronic Obstructive Pulmonary Disease (COPD), Emphysema, Chronic Bronchitis and Pulmonary Fibrosis, among many others.
"Ask not what your lungs can do for you. Ask what you can do for your lungs", said Dr. Noah Greenspan, Program Director of the Center. "Breathing is an incredibly multi-factorial activity. There are many influences that can cause your breathing to get worse; things like cigarette smoking, obesity and physical inactivity. Conversely, there are many things you can do to improve your breathing. These are the lifestyle issues that we hope to educate people about in a positive, empathetic and supportive environment. We are grateful to have the support of the American Lung Association."
The new group will be a joint effort between the Better Breathers and Dr. Greenspan's "Ultimate Pulmonary Wellness" lecture series which targets a variety of topics geared toward people with respiratory conditions including respiratory anatomy and physiology, exercise, nutrition and how to take your medications for maximum effectiveness; all with the pulmonary patient at the forefront.
The next lecture 'The Importance of Exercise in Pulmonary Disease' will be held on Wednesday, April 17th at the Pulmonary Wellness & Rehabilitation Center from 6:00–7:30 p.m. The Center is located on the 2nd floor at 22 West 38th Street, between 5th and 6th Avenues in Manhattan right across the street from the American Lung Association's Manhattan offices. Those interested in attending, please RSVP to (212) 921.0214.
"We are very excited to help build this support group in Manhattan," said Jeff Seyler, President and CEO of the American Lung Association of the Northeast. "When you suffer from a chronic disease, it can sometimes feel like no one understands what you're going through. These clubs are a place where people with a chronic lung disease can come to not only learn more about how to manage their disease but offer and receive support from others who are experiencing similar challenges."
For those interested in learning more about the American Lung Association's research, education and advocacy efforts to promote good lung health contact Serena Arrabito (917) 210-5645 or email sarrabito(at)LungNE(dot)org. Those who have questions about Better Breathers Clubs can contact Michele Tufano at (585) 666-1396 or mtufano(at)LungNE(dot)org. Those interested in registering for the Manhattan Better Breathers Club should call the Pulmonary Wellness & Rehabilitation Center at (212) 921-0214 or BB(at)pulmonarywellness(dot)com.
# # #
About the Pulmonary Wellness & Rehabilitation Center
The Pulmonary Wellness & Rehabilitation Center was founded in 1998 to provide comprehensive, individualized wellness and rehabilitation programs designed to address the highly specialized fitness, rehabilitation and overall wellness needs of people living with pulmonary diseases.
Since that time, the Center has conducted over 55,000 monitored exercise sessions; more than any other program of its kind.
The Center's programs are offered to any person with symptomatic, acute or chronic pulmonary disease including but not limited to Asthma, Emphysema, COPD, Bronchiectasis, Non-Tuberculosis Mycobacteria (NTM), Cystic Fibrosis, Interstitial Lung Disease, Sarcoidosis, Scleroderma, Lung Cancer and Pre- and Post-Surgical patients.
Contact: Dr. Noah Greenspan
noah(at)pulmonarywellness(at)com
212.921.0214