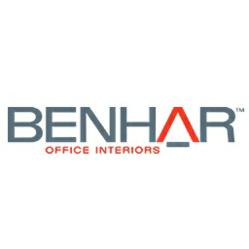 ..Ultimately, these four new hires will play a crucial role in helping to grow our company's capabilities and customer base, and we are thrilled to welcome them to our team. - Mark Benhar, President
New York, NY (PRWEB) April 01, 2013
Benhar Office Interiors, New York City's premier Herman Miller and office furniture dealer, is pleased to announce the addition of four new members to its growing team of professionals: Hugh James Callaghan, Director of Business Development; Erica Jaffe, Account Executive; Kathy DelRosso, Project Manager; and Elisha Ellis, Project Administrator. With these new hires in the company's project management, creative, and sales departments, the company plans to improve customer experience and strengthen current and future client relationships – ultimately allowing the brand to stay at the forefront of the office interior design industry.
"Since our brand was established, we've always strived to provide our clients with office furniture solutions that will suit all their business needs," says Mark Benhar, President of Benhar Office Interiors. "We've achieved this by combining passion for innovation with outstanding client communication and support. Ultimately, these four new hires will play a crucial role in helping to grow our company's capabilities and customer base, and we are thrilled to welcome them to our team."
Hugh James Callaghan will be joining the Benhar Office Interiors team as the Director of Business Development. Previous experiences allow him to bring a fresh perspective on business, marketing, and sales to the company. Before Hugh became a part Benhar's staff, he established his own financial brokerage firm and also served on the executive management team at a private aviation company. With Hugh's extensive network, he will not only work to expand Benhar's own network, but also help to fortify existing associations. His role in the company entails networking to build strong relationships in the corporate, real estate, and architectural community.
The next addition to the team is Account Executive Erica Jaffe. Erica is experienced in all phases of the design process and has been working in corporate interior design since 2007. Her specialties include space planning, color schematics, and furniture specification. Her unique experience in interior design and contract furniture help her to thoroughly recognize her client's needs, making it easy for her to deliver a perfectly a functional, effective and aesthetically pleasing design solution. Her responsibilities as the Account Executive in the firm requires that she facilitate a positive client experience from the beginning of the project all the way through to the end.
To help with successful project execution, Benhar has also hired Kathy DelRosso as Project Manager. Kathy began working in the contract furniture industry 10 years ago and has had the opportunity to work with and learn about some of the biggest names in the office interiors industry including Herman Miller, Steelcase, AIS and Allseating. As Project Manager, Kathy's job consists of acting as the main point of contact for clients, architects, general contractors and more. She manages project opportunities, product specifications, and coordinates the internal team effort. In addition, Kathy regularly attends project meetings, monitors manufacturer's ship dates, and supervises site deliveries and product installation.
Elisha Ellis will be joining Benhar as a Project Administrator, and comes with 8 years of experience in the contract furniture industry. She will be required to organize and follow up on all aspects of office interiors projects with specific accountabilities including editing quotes, entering orders, checking all acknowledgements, creating status reports, coordinating services and being a complete support resource for the whole team.
With the help of these four additions to the Benhar Office Interiors staff, the company can continue with its upward momentum in terms of creativity, innovation, and overall business expansion.
For more information, visit Benhar Office Interiors online at http://www.benharoffice.com
About Benhar Office Interiors
Benhar Office Interiors is the premier Herman Miller dealer in the New York City area, specializing in office interior design. The company's broad range of services and manufacturers underlines their leadership in the office interiors industry, providing professional environments with a personal touch. With access to over 100 office furniture manufacturers, Benhar has the unique ability to provide its clients with a vast array of furniture solutions perfect for any workspace. In addition to the furniture selection, Benhar offers services such furniture procurement, management, installation & delivery, office layout planning and more.